Rain doesn't dampen Gold Star Mothers
Story and photo by Spc. Pablo G. Vizcaino, 444MPAD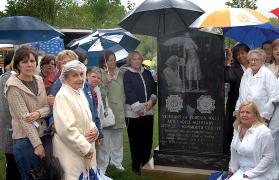 The audience huddled together underneath a myriad of umbrellas; the focus of attention, a rectangular-shaped six-foot-tall object covered by a white tarp, standing a few feet from the speaker's podium.
As the steady rain pelted fabric and surface alike and riverlets of water streamed down, it was hard not to equate the down pour to the untold amount of tears that must have been shed by mothers who've lost a loved one in service to this country.
"We know we cannot mend your broken hearts, but with the dedication of this monument, maybe we can enlighten others," said Frank Romeo, Veterans of Foreign Wars District 6 Commander, addressing the audience gathered together to witness the unveiling of the Gold Star Mother's monument in Brig. Gen. William C. Doyle Veterans Memorial Cemetery.
Originally envisioned as a replication of the original bronze statue by sculptor Andrew Chernak, located at Veterans Park in Kent, N.Y., District 6 soon realized that the size and cost to duplicate that statue would be prohibitive.
Undiscouraged, District 6 found the perfect compromise. They would raise around eight thousand dollars to fund the glossy black marble stone with an etching of Chernak's sculpture depicting a grief stricken mother, her tears fl owing, bracing herself with one hand on a small stand at her side.
Despite all the challenges, District 6 VFW members feel the effort has been more than worth it. "We felt that we needed to do more for mothers who lost a child to war," said Carmen Peterson, Veterans of Foreign Wars District 6 Ladies Auxiliary President.
"I'm a mother myself and I could never imagine what they must have felt, so I think it is important to keep supporting them. Hopefully, there will come a time when there won't be any more Gold Star Mothers and that their numbers dwindle," said Peterson.
The road of support doesn't end here. "District 6 has been honoring Gold Star Mothers for the past 58 years," said Bill Griemant, VFW District 6 Past State Commander and Chairman of the dedication. "We will continue to do so with our yearly luncheons for Gold Star Mothers."
---
NEW GI BILL CARRIES DIFFERENT ELIGIBILITY, BENEFITS
By Sgt. 1st Class Kryn P. Westhoven, JFHQ-PA
For our nation's newest veterans the education opportunities are new and expansive, but also confusing; if a service member had already started using other Montgomery GI bill programs before serving in the Global War on Terrorism.
Recently, Capt. Ben Stoner of the New Jersey Army National Guard's Education Offi ce, called Chapter 1607, the new Post 9-11 program, transformational and discussed how it is the biggest change in the funding of post-secondary education since the original GI was initiated after World War II.
Unlike other GI bill programs, Chapter 1607 provides three separate types of benefi t payments to those who have at least 90 days of aggregate active service after Sept. 10, 2001.
The VA will directly pay schools for tuition and fees equal to what each state's most expensive state-run school charges for in-state, undergraduate study.
The students who are attending school more than halftime, seven credits or more, and are physically in a class- room setting at least for one course per semester are entitled to a monthly basic housing allowance for an E-5 with dependents for the zip code the school is located.
The third benefi t is a stipend of up to $1,000 a year for books and supplies. Service members with 36 or more months of active duty will receive 100 percent of the three payments and those with less than three-years will receive a prorated amount. For example the majority of the 50th Infantry Brigade Combat Team Soldiers would be at the 60 percent level for the 12 plus-month deployment.
Another big change is the ability to transfer this benefi t to a spouse or children. The only limitations are a service obligation if the veteran has less than twenty years of service, benefi ts must be used within 15-years of the last discharge from active duty and you cannot collect more than a total of 48 months of VA education benefits.
For more information vist the VA on the web at www.gibill.va.gov or call the VA Hotline at 1-888-GI-BILL-1.