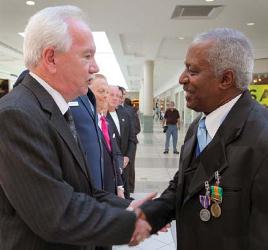 Fellow Veterans,
It has been said that the word 'Veteran' and 'homeless' should never appear in the same sentence. But that is the unfortunate reality.
I am proud to say that few agencies in government or the private sector have done more to help once-homeless Veterans return to productive lives than the Department of Military and Veterans Affairs.
Over the past two years, DMAVA has more than tripled the services provided to homeless Veterans through its time-tested transitional housing programs.
The number of beds at the Department's long-running facility, Vet Haven South in Winslow Township, Gloucester County, doubled to 99 last year through a $5.9 million expansion partially funded by the U.S. Veterans Administration.
In September, operations began at Vet Haven North in Glen Gardner, Hunterdon County, and the facility is helping put its residents on a path to self-sufficiency using the same formula of job training and life-skills building.
Make no mistake, the Vet Haven formula works.
Three out of four of the roughly 1,000 Vet Haven South residents who completed the program since it opened in 1995 returned to purposeful and productive lives. There is every indication that Vet Haven North will enjoy the same record of success.
In this issue, you will read about one of Vet Haven North's early success stories, Troy Cox. Hurricane Sandy stripped the Navy Veteran of everything, yet with the assistance of Vet Haven North, Cox has become a small business owner – and an employer of other once-homeless Veterans.
The effort to assist homeless Veterans has garnered renewed national attention thanks to VA Secretary Eric Shinseki's stated goal of ending Veteran homelessness by 2015.
It is a lofty goal, but one worth pursuing.
Although encouragement – and funding – from the VA helps the Department in its war against Veteran homelessness in New Jersey, the most powerful weapon we have is you, the Veteran.
The state's Veterans organizations have proven themselves to be force multipliers time and again. For example, this state's Veterans' organizations have logged more than 70,000 hours at DMAVA's three veterans' homes and have donated more than $410,000 in goods to the Homes and their residents.
The Vet Haven program has also received generous support from our Veterans organizations, from computer equipment at Vet Haven South to a new van for Vet Haven North.
As I said before, the VA goal of eliminating Veteran homelessness is a tall order.
But I know that the Department will continue to do everything in its power to make the goal a reality in New Jersey and I know we will have our partners in the Veterans community by our side every step of the way.
I think we can all agree with this statement made recently by Shinseki.
"No one who has served this nation should ever be living on the street."