About NJ Veteran Journal:
The New Jersey Veteran Journal is an official publication of the New Jersey Department of Military and Veterans Affairs and is intended to serve New Jersey's veterans, their families, friends and concerned individuals and groups. All correspondence should be sent to:

Veteran Journal Editor, NJDMAVA/PA, PO Box 340,
Trenton, NJ 08625-0340

A word from the DCVA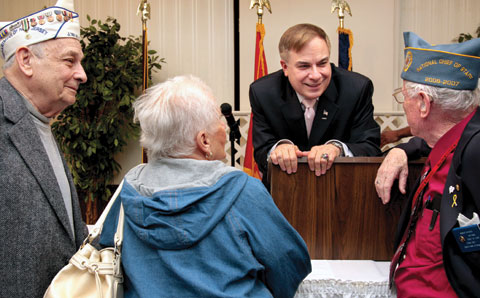 Retired Col. Stephan G. Abel (second from right) chats with (l-r) Arthur Seltzer, Mildred Seltzer and Robert Richter of the Jewish War Veterans following the Vineland Memorial Home volunteer luncheon on May 1. Photo by Tech. Sgt. Mark Olsen, NJDMAVA/PA.
Dear Veterans, For those of you who may not have already heard, I am pleased to report substantial progress in our efforts to make the New Jersey World War II Memorial in Trenton a reality. Neshaminy Constructors, Inc. made the winning bid and was awarded the contract in March. They have already completed site clearance and excavation and begun work on the foundation. At this point, all concerned are confident that the Memorial will be substantially complete for the planned dedication in November. We continue to seek and encourage your generous support so that we can complete the Memorial as designed.
I can also announce progress on the initiative administered by the Yellow Ribbon Commission for Returning Combat Veterans. As charged, the Commission has identified emergent issues facing these veterans and developed networks and programs to help meet their needs. One program, Yellow Ribbon Grants, has been particularly gratifying in allowing the department to provide emergency financial assistance to veterans on a one-on-one basis. The extent of the need has exceeded our expectations, and has in turn been exceeded by the heartfelt gratitude expressed by grant recipients. The operation of this program has paid dividends in several ways; first, by allowing us to respond quickly and in the most direct manner to emergencies which cannot wait for the normal systems and agencies to address; second, the program strengthens our outreach efforts by identifying veterans who were not previously in our system; third, the veteran can be directed to other available services; and fourth, the program identifies needs not previously recognized. We anticipate continuation of Yellow Ribbon funding next year as the appropriation is included in the proposed New Jersey budget for FY 09.
Finally, I wish to express again my sincere appreciation for all the support rendered by New Jersey's Veteran Organizations. Whether it be volunteering at the Veteran Memorial Homes, donations to Vets Haven, the Memorial or the Family Readiness Group or attendance at troop deployment Freedom Salutes and Welcome Home ceremonies, your efforts and contributions are immeasurable, especially to the extent of the pleasure derived by and comfort afforded the grateful recipients. I value our partnership and look forward to serving with you in the future.