About NJ Veteran Journal:
The New Jersey Veteran Journal is an official publication of the New Jersey Department of Military and Veterans Affairs and is intended to serve New Jersey's veterans, their families, friends and concerned individuals and groups. All correspondence should be sent to:

Veteran Journal Editor, NJDMAVA/PA, PO Box 340,
Trenton, NJ 08625-0340

NEW FACES ON FINAL FAREWELL TEAM
Story and photo by Sgt. Wayne Woolley, DMAVA Public Affairs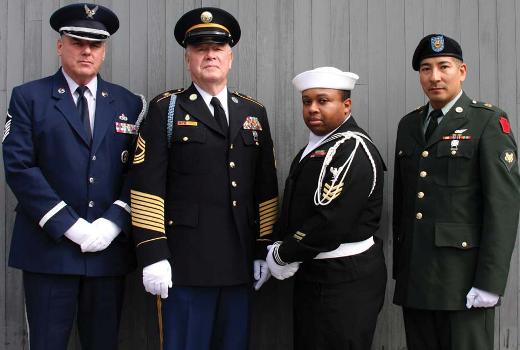 The new full-time members of the Brig. Gen. William C. Doyle Veterans Memorial Cemetery Honor Guard, from left, Air Force Master Sgt. Dennis Macomber, Army Master Sgt. Francis Adams, Petty Officer 1st Class Jermaine Smith and Spc. Cesar Rodriguez.
---
Some of the names have changed, but the mission for the men and women who are the public face of the nation's busiest state-run veterans' cemetery has not.
"We try to give the veteran the dignity they deserve," said Dennis Macomber, a retired Air Force Master Sergeant who assumed the duties of Honor Guard Coordinator at Brig. Gen. William C. Doyle Memorial Veterans Cemetery in February, replacing Patrick Looney, a former Chief Warrant Officer who retired.
Joining Looney in retirement were two other Doyle honor guard mainstays, Sgt. 1st Class Anthony Bokeko and Senior Chief Petty Officer Kenneth McAfee.
The newest full-timers on the honor guard are: Spc. Cesar Rodriguez, Petty Officer 1st Class Jermaine Smith and Army Master Sgt. Francis Adams.
"We're all working hard, making sure we hit the ground running," Smith said.
They better. The cemetery is busier than it has ever been since opening 15 years ago, and is on pace this year to break the annual interment record of 2,944 set last year. On one recent day, the Doyle staff handled 26 memorial services, another record.
The new crew has some help with the blistering pace. Air Force Master Sgt. Darlene Sparks remains the sentinel at the cemetery entrance, greeting funeral entourages as they arrive and ensuring they reach the chapel in time.
Twila Pritchett is another familiar face in the chapel office, handling the crush of phone calls and paperwork and generally making sure the trains run on time.
Keeping things on schedule in the chapel is a duty that also falls to Doug Fish and Pierre Lamereaux, two other longtime cemetery employees.
When a hearse arrives outside the chapel, Macomber and his team begin assisting family members to their seats and handing final paperwork while Fish and Lamereaux scramble behind the scenes, readying the chapel, moving the casket into place and making sure the grounds outside the chapel are tidy.
Although Fish has other duties at the cemetery, he considers the memorial services to be the most important. He makes it a point to never leave the grounds during his lunch break. He wants to make sure no debris blows into the parking lot is still on the ground when a family arrives.
"These are important days for these families," he said.