About NJ Veteran Journal:
The New Jersey Veteran Journal is an official publication of the New Jersey Department of Military and Veterans Affairs and is intended to serve New Jersey's veterans, their families, friends and concerned individuals and groups. All correspondence should be sent to:

Veteran Journal Editor, NJDMAVA/PA, PO Box 340,
Trenton, NJ 08625-0340

Gold Star Family plates: Recognizing the fallen
By Sgt. Wayne Woolley, DMAVA Public Affairs; photos by Mark C. Olsen, DMAVA Public Affairs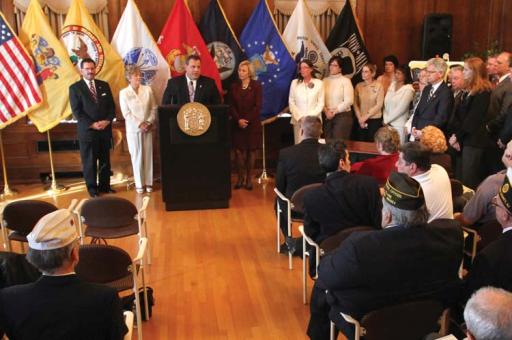 Gov. Chris Christie, flanked by war veterans and families of those who made the ultimate sacrifice, signed legislation bill S-2192 that clears the way for the first Gold Star Family license plate to be issued in New Jersey on Jan. 31.
---
After U.S. Navy SEAL David Tapper was killed in Afghanistan in 2003, his mother, Judith Tapper began a campaign to have the sacrifices of fallen service members from New Jersey memorialized in a way visible to everyone.

The effort bore fruit on Jan. 31 when Gov. Chris Christie signed legislation allowing for the issuance of Gold Star Family license plates to be issued to the loved ones of the fallen. Tapper and other Gold Star Families and veterans groups were at Christie's side when he signed the legislation, S-2192.

"While these Gold Star Family plates cannot replace their loved ones, they are a symbol of their sacrifice, and a small token of our gratitude and thankfulness that we can never fully repay," Christie said.

The new plates are emblazoned with an American flag with a Gold Star in the center and imprinted with the word Hero. Motor Vehicle Commission Chief Administrator Raymond P. Martinez credited Tapper, who serves as President of the NJ Gold Star Mothers, and her organization for working tirelessly to make the license plates a reality.

"Today is the happy culmination of a lot of work and shear tenacity " Martinez said "The Gold Star Mothers of New Jersey are a devoted group of women dedicated to preserving the memory of children."

The genesis of the Gold Star Mothers dates back to World War I, when a Blue Star was used to represent each person in the Military Service of the United States. As military personnel were lost in combat or died of their wounds, the Gold Star became an accepted symbol to use to honor the service member's supreme sacrifice and the pride of the family.

Eligibility for the plates will be determined by the Gold Star Mother's organization and provided by the MVC free-of-charge. Those eligible include spouses, parents, brothers, sisters, children, legal guardians or other legal custodians of any member of the armed services who dies while on active duty.

Gov. Chris Christie, left and Judith Tapper, President of the N.J. Gold Star Mothers, stand next to a larger than life version of the Gold Star Family license plate.

The MVC offers three other gratis military based specialty plates including one honoring prisoners of war and recipients of the Silver Star and the Medal of Honor.

Prime sponsors of the Gold Star legislation include Senators James Beach and Sean Kean and Assemblymembers Jack Conners, David P. Rible, Nancy F. Munoz, Matthew W. Milam, Valerie Vainieri Huttle, Anthony M. Bucco and Scott T. Rumana.