HAVE I GOT A STORY FOR YOU
Story and photo by Mark C. Olsen, DMAVA Public Affairs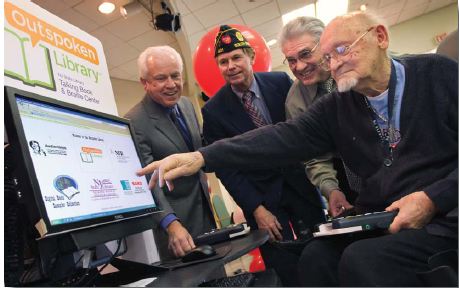 Vineland Veterans Memorial Home resident Norm Baker, right, indicates on the Outspoken Library Kiosk the service where he downloads books to, left to right, Adam Szczepaniak, Director of the New Jersey State Library Talking Book and Braille Center; Gary Cooper, Media Specialist, New Jersey State Library and Joe Romano, chief executive officer, Vineland Veterans Memorial Home. The kiosk, which was installed by the New Jersey State Library at the Home to serve the needs of the visually impaired veteran population in south Jersey, was unveiled on Feb. 15.
---
Most of us take reading for granted.
Yet, three percent of New Jerseyans have some sort of visual deficit, physical handicap, or learning disability which prevents them from taking part in this basic activity.
At the Vineland Veterans Memorial Home that number is higher – one out of every three of the Home's 300 residents has some form of handicap that prevents them from reading.
But that is about to change.
The Outspoken Library Kiosk combines a specially designed computer, which provides web based access to the New Jersey State Library with free portable players.
"When you lose your vision or are an amputee, you give up on reading," said Adam Szczepaniak, director of the New Jersey State Library Talking Book and Braille Center. "This service means they don't have to give up on their love of reading."
The setup is simple, the resident comes to the Home's activities office, or if their handicap prevents them, the staff goes to them. The resident then logs on to the system; downloads the books or magazines to their thumb drive and then transfers them to their player, which can hold up to 10 books.
The only thing the resident is responsible for is getting a thumb drive.
"We are working with area veteran's groups to buy the residents thumb drives," said Gary Cooper, who serves in marketing with the New Jersey State Library.
The Kiosk provides the Home's residents 24-hour access to Audio Vision, a 24-hour newspaper reading service; National Federation of the Blind Newsline; the NJSL Talking Book and Braille Center and the Library of Congress Braille and Audio Reading and Downloading Web Site.
What does this mean in terms of reading? Well, imagine more than 80,000 books with 35-40 books getting added each week to the inventory, plus newspapers and magazines, literally at your fingertips.
Free, no charge
"It gives them what they need to stay in touch with the world," said Szczepaniak.
The service is also available to users outside the home with priority being given to veterans. Any New Jersey resident who has a handicap that prevents them from reading can, with a doctor's documentation, get access to the system. After registering with the Talking Book and Braille Center, users will then be able to access the National Library Services Braille and Audio Reading (BARD) Program. Once certified, users will receive a login ID and a password to access BARD.
Resident's reaction to the service at the Home has been swift.
"Twenty-five residents are using it and I expect to have the rest registered in the next two months," said Lisa Williams, the Home's activities director.
One of those residents is Norman Baker. The 84-year old Marine Corps Korean War veteran heard about it from his wife who discovered the service last September. In fact it was Baker who told Williams about the system.
Confined to a wheelchair, Baker's eyes sparkle when he tells about what a difference the service has made for him.
"I am an avid reader," said Baker. "Without this program, I wouldn't be able to read."