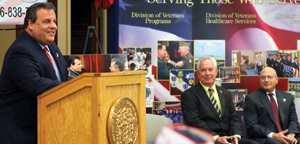 Gov. Chris Christie addresses veterans commanders at the National Guard Training Center at Sea Girt on Oct. 2, 2011. (U.S. Air Force photo by Master Sgt. Mark C. Olsen, 177th Fighter Wing Public Affairs)
---
Dear Veterans,
One of the things that makes my job easier is the fact that the veterans' community in New Jersey is one of the most vibrant and dedicated in the nation.
You are an amazing group of men and women who epitomize selfless service, helping fellow veterans and serving as leaders in your communities.
With all that you give, it's difficult for me to ask you for more. Yet, here goes.
Whenever you can, share your story of your time in uniform with someone who doesn't know much about the military. Talk about why you served and how it shaped your life.
Here's why that's important. The number of Americans serving in our armed services is at its lowest point in America's modern history; fewer than one percent of Americans have a family member in uniform and only one in five members of Congress are military veterans.
James Sheehan, a prominent Stanford University historian, wrote recently that this disconnect between the American public and the military that serves it has begun to subtly change the way people think about what it means to be an American.
"Citizenship now has much more to do with rights and entitlements than with duties," Sheehan wrote. "..."The American military is something that we should be proud of. It shouldn't be seen as something being done by someone else."
As veterans, we have the opportunity to start to close that widening gap.
An increased awareness among our fellow Americans about the value of military service and the contributions made every day by people who have served in it will pay dividends on many fronts.
In the short term, a public with a fuller appreciation for our military and the kinds of people who serve just might lead more employers to seek to hire veterans. The importance of this can't be understated. Right now, the veterans' unemployment rate in New Jersey is in excess of eight percent and the majority of those looking for work are young people who served in Iraq and Afghanistan.
As veterans, we can do our part by helping people understand that service in the military tends to create attributes every employer seeks, such as loyalty, dependability and dedication.
Here's another reason to share your story. It is a part of history.
In this issue, you'll read about the work undertaken by Carol Fowler at the National Guard Militia Museum of New Jersey. Over the past decade, Fowler has worked tirelessly to create oral histories that preserve the service experiences of a great cross section of New Jersey veterans. She's interviewed more than 400 veterans for the project and her work continues. Please consider participating in this worthy project.
No matter where your story is told, it has the power to instruct, inspire and reveal fundamental truths about what it means to be an American.