The Veterans History Project of the American Folklife Center collects, preserves and makes accessible the personal accounts of American war veterans so that future generations may hear directly from veterans and better understand the realities of war.
The Project collects first-hand accounts of the following wars:
World War I (1914-1920)
World War II (1939-1946)
Korean War (1950-1955)
Vietnam War (1961-1975)
Persian Gulf War (1990-1995)
Afghanistan and Iraq conflicts (2001-present)
In addition, those U.S. citizen civilians who were actively involved in supporting war efforts (such as war industry workers, USO workers, flight instructors, medical volunteers, etc.) are also invited to share their stories.
The Veterans History Project (VHP) is a congressionally mandated program created in 2000 within the Library of Congress American Folklife Center that collects, preserves and makes accessible the personal accounts of American war veterans.
The Project is primarily an oral history program that collects and preserves the first-hand interviews of America's wartime veterans. The project relies on volunteers, both individuals and organizations, throughout the nation to contribute veterans' stories to VHP. In addition to audio- and video-recorded interviews, the Project accepts memoirs, collections of original photographs and letters, diaries, maps and other historical documents from World War I through current conflicts.
Once processed, the veteran's service history will be available online and the interview (or other materials) will be available to researchers and the general public. Some collections are also used by the Library of Congress in presentations, exhibitions, publications and events to promote the Veterans History Project.
For those who are interested in interviewing veterans for the project, a field kit is available online that contains all the tips, guidelines, and tools you need to conduct an interview of a veteran. A fifteen-minute field kit explains the VHP interview process from beginning to end, including special tips that help contributors navigate the field kit.
The Veterans History Project Information Center is located in Room LM-109 of the Madison Building and is open from 10 a.m. until 3 p.m. Monday through Friday, and is closed on all federal holidays.
Collections are not served to researchers or to the general public in the VHP Information Center. Please make an appointment with research staff to view your own or any other collections.
For more information about the Veterans History Project go to their website at www.loc.gov/vets/vets-home.html.
---
Paramus gets multi-purpose room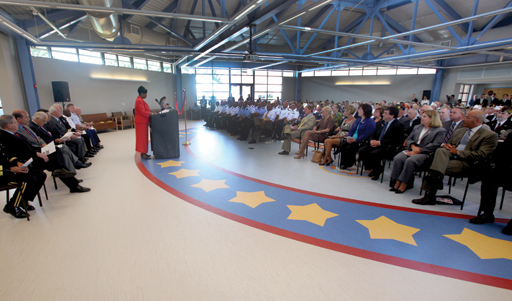 A ribbon cutting ceremony for a $2.6 million multipurpose room at the Paramus Veterans Memorial Home was held on Aug. 9, 2011. The creation of the 7,900 square-foot addition will enhance the quality of life for the more than 300 residents by creating a dedicated space for events. (Photo by Mark C. Olsen, NJDMAVA Public Affairs)