NO ONE IS FORGOTTEN
By Staff Sgt. Wayne Woolley, 444th Mobile Public Affairs Detachment; photos by Sgt. William Addison, 444th Mobile Public Affairs Detachment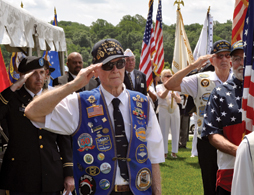 The American military follows this simple credo: No one is forgotten on the field of battle.
In New Jersey, this tradition was extended to the more than 43,000 graves at the Brig. Gen. William C. Doyle Veterans Memorial Cemetery. At 5 p.m. on Friday, May 27, more than 900 Boy Scouts, Girl Scouts, Cub Scouts and Brownies fanned out across the 234-acre cemetery in Wrightstown and placed an American flag on every grave. No one is forgotten.
Lt. Gov. Kim Guadagno who participated in the event said there is powerful symbolism in the event, which officially began New Jersey's observance of Memorial Day.
"The young people who volunteer their time to perform this valuable service represent America's future," Guadagno said. "And the selfless service and sacrifices made by the veterans who are laid to rest at Doyle Cemetery helped preserve the freedoms enjoyed by all Americans."
On Saturday, May 28 at 10:30 a.m., Gov. Chris Christie was joined by representatives from more than 30 Veterans service organizations at the state Memorial Day Ceremony at the Doyle Cemetery. Christie was the keynote speaker. Other highlights included a flyover by several New Jersey Air National Guard F-16 fighter jets, a 21-gun salute and a performance by the New Jersey Army National Guard's 63rd Army Band.
"Memorial Day is a time to honor the men and women who wore this nation's uniform and made the ultimate sacrifice in the name of liberty," Christie said. "The ceremony at the Doyle Cemetery is a fitting tribute."
New Jersey is home to more than 460,000 veterans. The state Department of Military and Veterans Affairs provides services to veterans from the time they leave military service until they are laid to rest.
The Doyle Cemetery is the busiest state Veterans cemetery in the United States, averaging nearly 3,000 interments each year. In addition to the cemetery, DMAVA operates three Veterans Memorial Homes; Paramus; Menlo Park and Vineland as well as a transitional housing program for homeless veterans in Winslow Township. DMAVA also maintains a statewide network of Veterans Service Offices who work to ensure all of the state's Veterans receive the federal and state entitlements earned through their service. The DMAVA team of 18 Veterans Service Officers accounted for the awarding of nearly $72 million in federal benefits to New Jersey Veterans last year.
Gov. Christie has shown strong leadership in his efforts to support the state's Veterans community and in his role as Commander-in-Chief of the New Jersey National Guard.
In addition to supporting all of the vital programs provided by DMAVA, including a toll-free mental health hotline for Veterans, the governor has signed legislation that strengthens the support network for military families after the death of a service member, as well as a program that awards high school diplomas to Veterans who dropped out to serve in World War II, Korea and Vietnam.