Keeping the memory alive
By Spc. Sherwood Goodenough, 444th Mobile Public Affairs Detachment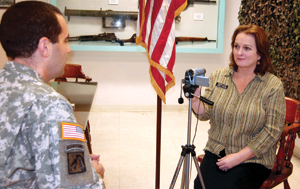 Carol Fowler, right, director, Center for U.S. War Veterans Oral Histories at the National Guard Militia Museum interviews a veteran of Operation Iraqi Freedom. (NJDMAVA photo by Kryn P. Westhoven)
---
In the early summer of 2001, with only a borrowed camcorder and a donated VHS tape, an intern at National Guard Militia Museum of New Jersey began taping the stories of veterans.
A decade and more than 400 interviews later, that internship evolved into the life's work for Carol Fowler, now the museum's assistant curator and director of its Center for U.S. War Veterans Oral Histories.
The project, which began as collaboration between the Library of Congress and regional partners, collects and records stories of veterans in their own words. For Fowler, who conducts interviews from the museum's headquarters in Sea Girt, this cataloging of memories is important not only for its value to historians, it's become a way for veterans to tell personal stories that would otherwise go untold.
The Middletown resident speaks in nearly breathless excitement and confesses to getting chills as she recounts the unimagined outcomes that evolved from choosing to add a human voice to nearly every conflict since WWII.
"The key is to listen," she said. "It's inspiring."
The project has taken her to the offices of former Gov. Brendon Byrne, where she interviewed the WWII veteran about his service as a B-17 navigator. She's formed friendships with women who were the first nurses in occupied Okinawa and a soldier who helped Marilyn Monroe take off her boots in Korea. These first-hand accounts provide an intimate human perspective that might otherwise disappear between the major headlines.
Although the numbers of Iraq and Afghanistan participants are growing, the vast majority of stories come from WWII-era soldiers, Fowler said.
"They're at the point where they're reflective in their senior years," she said. "Many have never talked about it before and now they feel it's time."
While the interviews are simple, fluid, and conversational, they have led to unexpected reunions of old comrades, closure for bereaved loved ones and have helped in the healing process of those still suffering from the trauma of war.
Bob Silverman, a retired research engineer and former Army Signal officer from Long Branch, NJ, is one of the museum's volunteer docents. He considers her work significant because of the new life it gives the legacy of those who served.
"Capturing soldiers' memories for the generation that is coming to the end of their lives is important," he said. "We need to remember what they've seen and heard."
Fowler began her work three months before the tragic events of Sept. 11, 2001 so as she nears the 10 year anniversary of her work she's reminded of how Maj. Gen. Maria Falca- Dodson, Commander of the NJ Air National Guard, ended her interview.
"I ask at the end of each interview if the veteran has a message of peace for tomorrow's generation," Fowler said. "Some give the answer to go into the military."
"Maria Falca-Dodson had a unique answer. She said nowadays you see everyone texting and emailing and we've lost that personal face-toface communication."
Falca-Dodson's comments made her realize the importance of the work she does as new generations of warriors are minted daily.
"The oral history project will never die and hopefully there will always be someone here to do this," Fowler said.
Veterans may schedule an interview by contacting Ms. Fowler at (732) 974-5966 or visiting www.nj.gov/military/museum/oralhistory.html.