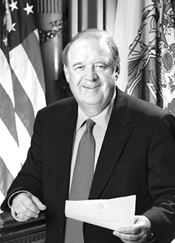 Message From The Governor
Dear Friends,
In New Jersey, we understand the importance of our Veterans. We know how fortunate we are to have benefited from their bravery and are grateful for their service and sacrifice. We are committed to giving back to those New Jerseyans who have served in the Armed Forces and given us so much in preserving our freedom. We are dedicated to providing services, support and respect to those brave enough to serve their country.
Recently, I unveiled the Fallen Heroes Memorial at the War Memorial in Trenton. It displays the names of all of those brave New Jersey members of the Armed Forces who have perished in Operations Enduring Freedom and Iraqi Freedom. We have also developed a website that brings this memorial to you at www.nj.gov/fallenheroesmemorial. Please take the time to visit this site and honor these servicemen in your own way. As a Veteran, you can appreciate their ultimate sacrifice in a way that few of us can understand.
New Jerseyans are proud people. We are proud of our service men and women, our state and our country. When our National Anthem was not played at a soccer game in my state, I felt it showed a lack of respect. It was disrespectful not only to us as the host; it was disrespectful to our country, the teams, the sport and all involved. I have been told that it is normal protocol to only play the anthems of the teams participating. It may be protocol, but it is not right. I stood up and voiced my displeasure because our veterans and our country deserve better than that.
As Governor, it is important that I understand the concerns of New Jersey residents. I am especially interested in hearing from you, our veterans. Contact the Office of the Governor with any questions or concerns at (609) 777-2500. My Administration is committed to providing a State government that works for all the people of New Jersey. With stability, pride and dignity, we have the power to make our lives better.
With regards,


Richard J. Codey
Acting Governor

Table of Contents
Abel New DCVA
Governor's Letter
Vets Homes Update
NJ Medals Honor Veterans
Mental Health Hotline
Army Program For Vets
VA Reaches out to New Vets
Vets News You Can Use
One Shots
POW Expanded Benefits
VSO Listing
Front Page / General Info
Download Veteran Journal (326KB PDF)
Return to Publications
Return to DMAVA