About NJ Veteran Journal:
The New Jersey Veteran Journal is an official publication of the New Jersey Department of Military and Veterans Affairs and is intended to serve New Jersey's veterans, their families, friends and concerned individuals and groups. All correspondence should be sent to the editor at:

NJDMAVA, PAO-V, PO Box 340,
Trenton, NJ 08625-0340

Message from the Govenor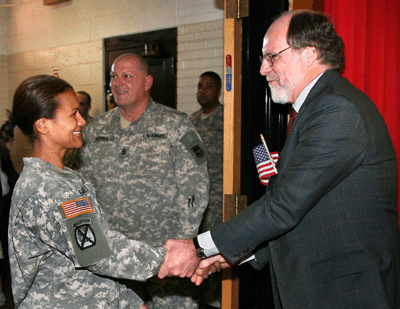 Governor Jon S. Corzine welcomes home Sgt. Luisa Sanchez, 250th Personnel Services Detachment - one of New Jersey's newest veterans during a Welcome Home Ceremony held at the National Guard Armory in Lawrenceville on March 9. The Ceremony celebrated the return of Soldiers from the 50th Personnel Services Battalion, 250th Personnel Services Detachment and the Afghan National Army embedded Training Team (Task Force Phoenix). The Soldiers successfully ompleted year-long deployments to Afghanistan in support of Operation Enduring Freedom. Photo by Tech. Sgt. Mark Olsen, NJDMAVA/PA.
Dear Friends,
On this Memorial Day, I am honored to thank our military veterans for their service here at home and around the world. Our military protects our interests here on the homeland as well as overseas, and for that I am immensely grateful.
All Americans should take advantage of this opportunity to honor our veterans of WWII, the Korean War, the Vietnam War, the Gulf War, as well as the War on Terror. The efforts of all of these heroes have provided Americans with the security needed to thrive and become the bastion of freedom we are today. We are all thankful for their sacrifice for our country, and it is our responsibility to provide them with quality care when they are in need.
In that context, I'm proud that our Administration is taking a holistic approach to supporting our veterans. We've created a Yellow Ribbon Commission to make recommendations about how to improve services for recently returning vets, invested in expanded assistance for service people who suffer from Post Traumatic Stress Disorder, and trengthened the safety-net for veterans in need of shelter, transitional, or supportive housing – and all of these steps eflect our continuing commitment to care for our bravest men and women the same way they care for us.
Again, thank you for protecting our freedom. It is only hrough the continued concern and commitment of individuals such as yourselves that we may hope to provide a better quality of life to all residents of New Jersey as well as our nation.