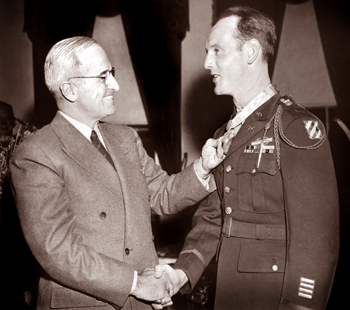 President Harry S. Truman congratulates 1st Lt. Francis Xavier Burke after presenting him the Medal of Honor at a ceremony in the White House December 1945. Photo courtesy the Burke family.
Editor's Note: The administrative building at the Brig. Gen. William C. Doyle Veterans Memorial Cemetery is being dedicated in Francis Xavier Burke's honor. Burke, a former New Jersey Army National Guard Soldier, is the only Medal of Honor recipient buried at Doyle Cemetery.
Nuremberg In 1945, when 1st Lt. Francis Xavier Burke all-but-singlehandedly took on multiple units of German soldiers on the streets of Nuremberg, Germany, his story was not front page news.
Instead President Franklin D. Roosevelt's death was still front-page news around the world, along with British troops discovering the horrors of Bergen–Belsen concentration camp and Soviet troops advancing on Berlin.
But none of that mattered on the morning of April 17. As fellow Third Division infantryman Michael Daly recalls, many of the German soldiers remaining in the city were not etreating without a fight. Daly, who also received the Medal of Honor (MOH), described the situation: "The rubble was very extensive in the inner city. A lot of large buildings had been completely knocked down. You had to dislodge the enemy in a piecemeal way, because they used the rubble as cover. You had to get in pretty close to be effective."
Getting in close was not a problem for Frank Burke. As his MOH citation notes, the 1st Battalion transportation fficer had been assigned the relatively safe task of choosing a motor pool site for the troops in the area. But once he discovered 10 German soldiers preparing a counterattack, he ommandeered a light machinegun and killed or repelled members of this unit and the gun crew that had come to their aid. Four hours and seven more engagements later, Burke had killed or wounded 14 Germans, and had played a pivotal role in the deaths of 29 more. Burke returned to the U.S. four months later, and received the medal in December.
Four hours and seven more engagements later, Burke had killed or wounded 14 Germans, and had played a pivotal role in the deaths of 29 more. Burke returned to the U.S. four months later, and received the medal in December.
The family
Frank Burke was born in Hell's Kitchen, a New York City neighborhood that, back in the 1920s, was being overrun by Prohibition-era, booze-trading gangs.
The young boy's father and Irish-born mother decided to moved to Jersey City, where Mayor Frank Hague governed by his own set of rules. Soon he was driving milk trucks for his dad or working at a local factory instead of attending school during the day. Dickenson High School night classes ventually made graduation possible, but it could have been different.
One day, "He had a disagreement with a co-worker," emembers Frank's son Michael, "They were going to settle it at lunch." Mike's father knocked him out"—with such skill, apparently, that he was offered the chance to box rofessionally by a witness. But Frank's father, a boxer himself some years before, nixed the idea. Still, a hereditary personal discipline, and an uncle's war stories got Frank thinking about the military.
Burke's first stint in the Guard lasted from 1936 to 1941, when his unit was activated. The 1st Battalion, 3rd Infantry Division, 15th Infantry Regiment served in North Africa, anded at Anzio, and advanced through France toward Germany. Three of the Burke boys were stationed in Europe at once.

Once the war was over, no one would have thought it unusual if the young lieutenant had opted out of longer term service. But Frank had another idea, his brother Jack recalls: "When I graduated high school, Frank said "C'mon, Jack, let's join the National Guard." All told, Frank Burke served for 25 years.
The protector But his country wasn't the only thing Frank Burke committed himself to protect, and even though he didn't say much to his daughters about the war—in a sense, he didn't have to. Events showed his daughter Maureen, for one, what he was made of on several occasions.
There was the time she slipped through her swim tube in the ocean off Asbury Park and awakened to the sight of dollar
bills drying on a Berkeley—Carteret hotel room radiator. It was then she realized that her dad had jumped in, fully lothed, to save her.
Frank Burke's neighbors reaped the benefits of his ommitment to protect as well. While listening to Mets games on the front stoop, he foiled at least one robbery attempt and deterred others through his vigilance.
This protectiveness, Michael Daly suggests, may have stemmed from wartime experiences. "When the war was inding down, you felt strongly the necessity of doing everything you could to protect the people who were still alive…there was so much shared danger, you feel great affection for the people you're with."
An ordinary hero
Frank was more inclined to talk to his wife and Mike about his experiences. But these generally weren't a matter of detailed public record. Sure, he marched in the parades, spoke to Dickenson High students about the importance of education, and ppeared on radio a time or two, but no one could accuse Frank Burke of seeking the spotlight… New Jersey Assemblyman Louis Manzo, a childhood friend of Mike Burke, didn't know of his friend's dad's accomplishments until high school. When he did, "I was astonished." "You knew he had served, but that humbleness speaks olumes of the family as well as Maj. Burke."
A man of principle, independence and humor But Frank Burke wasn't reluctant to let people know what he thought about other challenges either he or the nation, faced. "Frank was a very honest person— straightforward with his feelings. You knew where you stood with Frank," states his brother Jack.
He brought this independence of mind to his business affairs. Instead of joining the ranks of someone else's company, he and his wife ran their own insurance agency for decades— in fact, he was still active in the business to the day he died. But, above all, he urged his own children not to be intimidated by the example that he set: "He always said,
'What I did, forget about it—be your own man," acknowledges
his son Mike."
When Frank wasn't working; serving as a lector at St. Aloysius, or enjoying the serving as the King of a bowling league, he thoroughly enjoyed the comforts of home. Watching Combat's Vic Morrow was a family affair. They all loved to watch Combat. Burke stressed that war was horrible, and was conflicted about killing, but extremely patriotic—he'd do everything he could for his country.
And then there was the weekly sing-along with Dad. Frank was a great fan of the ukulele, which he used to accompany renditions of Irish standards and the Third Division song uring Sunday evening family gatherings in Jersey City and Bricktown. Reviews of Burke's musical performances were mixed. Some felt he was great; Jack asserts that "he was terrible, but we didn't care, it was great times."
"He was a man who never acted for the sake of what it looked like to others…heroics were a part of his daily life…he would have given his life to protect his family," concludes Maureen.