DCVA Message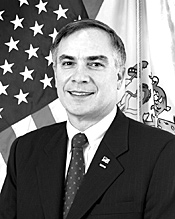 Friends and Fellow Veterans, I'd like to take this opportunity to thank you for the great support you have given the NJ Department of Military and Veterans Affairs. The pace over the past six weeks has been especially demanding; whether it was troop departures, Welcome Home Ceremonies or Veterans Day, you have been there to support us. Thank You!
Once again, we need the help of each and every Veteran activist in spreading the word about our latest initiative, The Veterans Outreach Program. Featured on the cover of this issue, we are undertaking this effort for two distinct reasons: to educate more of our veterans on benefits and to address issues raised in a series of recently released federal reports.
First, as I travel the state and talk with Veterans, it is surprising how many are not aware of the programs and services this Department provides to them and their families. The Outreach Program is designed to bring that message to as many people as possible, by staffing an informational display in heavily trafficked locations. You can help by spreading that word as well, anytime you meet and speak with another Veteran.
Second, a series of recently released reports stated that New Jersey's Veterans receive less compensation from the U.S. Department of Veterans Affairs than Veterans in other states; a
statement that is misleading. A New Jersey Veteran, with a specific, serviceconnected disability, receives exactly the same amount of compensation from the VA that a Veteran in any other state
with the same disability. What does vary is the average compensation that our Veterans receive and New Jersey's is lower than the national average. There are a number of demographic factors that influence this which are completely out of our control but, while we cannot change the average compensation, we can influence the number of claims submitted by our state. Nationally,
ten percent of all Veterans receive some form of compensation from the VA for a service-connected disability.
Of New Jersey's 600,000 Veterans, only eight percent receive such benefits. This means that 12,000 NJ Veterans who could be receiving benefits are not! Through the Veterans Outreach
Program, we hope to find these individuals and assist them in filing the claims they are entitled to. We at the Department of Military and Veterans Affairs will be working hard to ensure that all of New Jersey's Veterans know what their state and federal benefits are. To find out more about
the program or your Veteran benefits, call 1-888-8NJ-VETS.
Finally, on behalf of Your Veterans Team, please accept our Best Wishes for the Healthiest and Happiest of Holiday Seasons!
With regards,

Stephen G. Abel
Deputy Commissioner for Veterans Affairs

Table of Contents
Veterans Outreach Program
DCVA Message
Governor's Letter
WWII Memorial
Memorial Receives Funds / VVMF 10th Anniversary
Veterans Day Highlights
Veterans Benefits
Medicare PDPs
VVMF Veterans Day
One Shots
VSO Listing
Download Veteran Journal (2.39MB PDF)
Return to Publications
Return to DMAVA