WW II Memorial Receives Funds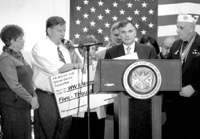 WW II Memorial Receives Donation From Gala
Deputy Commissioner Steve Abel (second from right) receives a $5,000 donation for the N.J. World War II Memorial from Eric Spevak, master of ceremonies at the 4th Annual Veterans Gala Dinner Dance held in Cherry Hill. Jewish War Veterans Post 126 and the American Legion Post 38 hosted the event.
Also pictured is Eric's mother-in-law, the wife of a WW II Veteran and WW II Veteran Arthur Seltzer. Photo courtesy Eric Spevak.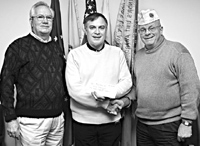 American Legion Donates Money For Memorial
The American Legion's Department of New Jersey presented the first installment in a $25,000 pledge to support the construction of the World War II Memorial at Veterans Park in Trenton.
Stephen G. Abel, Deputy Commissioner for Veterans Affairs, center, accepts the $5,000 check from Raymond Zawacki, Department Adjutant, left and Joseph Gugliuzza, Department Commander, right. Photo by Kryn P. Westhoven, DMAVA/PA.
|
VVMF Celebrates 10th Anniversary
On Oct. 27, the New Jersey Vietnam Veterans' Memorial Foundation celebrated its 10th Anniversary and held its Third Annual Gala, "A Salute to Patriotism" at the Vietnam Era Educational Center and the Robert B. Meyner Reception Center, located on the grounds of the PNC Bank Arts Center, Holmdel. This event brought together corporate, political and veterans' community leaders to recognize and honor veterans and those who are dedicated to helping veterans.
Former Georgia Senator Max Cleland and Maj. Gen. Charles F. Bolden, Jr., both provided stirring remarks. Severely wounded during his tour in Vietnam, Senator Cleland headed the Veterans Administration during the Carter Administration and his advocacy on behalf of veterans is well known. Maj. Gen. Bolden, a decorated Vietnam veteran flew four missions aboard the Space Shuttle. The gathering was also treated to a superb precision drill demonstration by a troop from the Rahway High School Marine Junior ROTC Unit.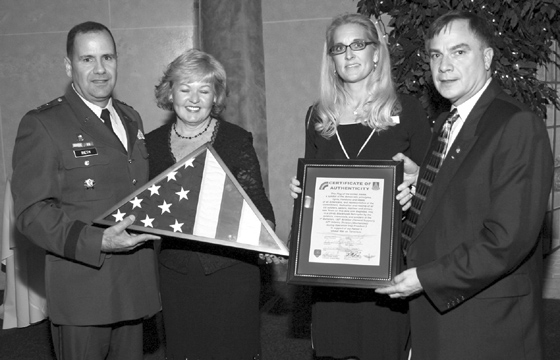 Maj. Gen. Glenn K.Rieth (left) - The Adjutant General of New Jersey and retired Col. Stephen G. Abel (right), Deputy Commissioner for Veterans Affairs, present a flag flown by the 150th General Support Aviation Battalion, New Jersey Army National Guard to Beverly Fedorko-Ott, President and Kelly Watts, Executive Director, Vietnam Veterans Memorial Foundation. Photo by Roman Martyniuk.