Veterans Benefits
New Veterans Benefits Promotional Items
By the Veterans Benefits Bureau

As part of the concerted outreach program now underway within the Division of Veterans Programs, two new items have been introduced to help broaden the impact of the department's efforts.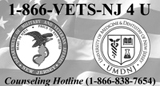 A new patriotic magnet (left) is now available for distribution as well as a new bumper sticker (above). The magnet has the Counseling Hotline phone number, while the bumper sticker shows the new Veterans Benefits contact number.
Both items utilize a patriotic background in highlighting the contact information. These items will be included in future outreach mailings and will be used as giveaways at future outreach events.

Students Organize Care For Medal Of Honor Monument
Audubon High School students and the Audubon community recently founded the Project Memorial Foundation to honor and maintain Audubon's Congressional Medal of Honor monument.
The non-profit organization objectives are: to maintain the Congressional Medal of Honor monument; to continue to promote awareness of the town's Congressional Medal of Honor recipients: Nelson V. Brittin, Edward C. Benfold and Samuel M. Sampler; to create a scholarship for a graduating Audubon High School senior(s) with career plans that include community service; and, in conjunction with the high school students, to provide services for veterans and other members of the Audubon community.

Veterans' Kiosk: Coming To a Mall Near You
General manger of the Quakerbridge Mall, John Ferreira, left, is greeted by Stephen G. Abel, Deputy Commissioner for Veterans Affairs at the departments outreach kiosk at the mall in Mercer County during the Veterans Day weekend.
Also pictured are Chris Kulkosky, Veterans Program Training Officer; Joe Battito, Veterans Service Officer from New Brunswick and Ed Weisenhorn, Director of Volunteer Services at the Menlo Park Veterans Home. The Veterans Kiosk will visit Menlo Park Mall– Jan. 26-28, Livingston Mall – Feb. 16-18, and Brunswick Square Mall – March 23-25.