DCVA's Message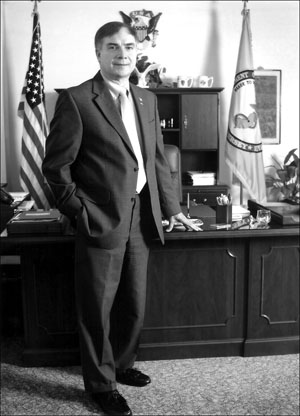 Dear Veteran,
We all start a new year with expectations that next the twelve months will be better. These expectations take the form of goals we hope to achieve.
The Department of Military and Veterans Affairs (DMAVA) started 2006 with an ambitious list of goals and high expectations to serve the veterans community.
I am proud to report that the DMAVA team did very well achieving those goals with help from Governor Jon S. Corzine, the state legislature and the Veteran Service Organizations.
The Executive and Legislative branches showed their support for you by keeping this Department as one of the few to be fully funded for this current budget. That support to 'Those Who Served' included an additional $2-million dollars to expand the transitional housing program for homeless veterans.
The past year saw many improvements of facilities. The opening of the new wing at the Vineland Veterans Memorial Home included the first assisted living unit in any state veterans' home in the U.S. The maintenance complex at the Brig. Gen. William C. Doyle Cemetery was completed. Continued expansion of the busiest state veterans' cemetery in the country was made possible by securing additional federal funding to add to the existing crypt field.
For 2007 we will continue to search for the under-served veterans throughout the state. We will expand our outreach efforts in the community and will explore new ways to fulfill the Governor's vision of giving our homeless veterans a hand up.
We will work with the federal Veterans Administration to provide funding to ensure several smaller projects at our facilities get the attention they deserve.
And finally it looks like 2007 will be the year that fund raising begins in earnest to get the World War II Memorial in Trenton built.
These are our expectations and I look forward to working with you to make them a reality.