About NJ Veteran Journal:
The New Jersey Veteran Journal is an official publication of the New Jersey Department of Military and Veterans Affairs and is intended to serve New Jersey's veterans, their families, friends and concerned individuals and groups. All correspondence should be sent to the editor at:

NJDMAVA, PAO-V, PO Box 340,
Trenton, NJ 08625-0340

Veterans Honored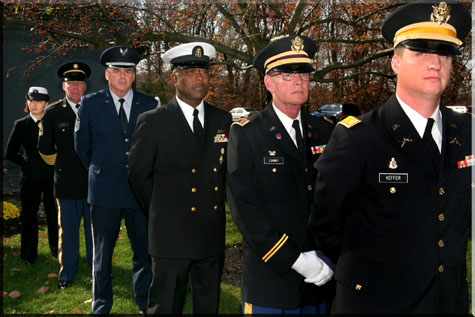 On Saturday, Nov. 11, members of the New Jersey Army and Air National Guard, along with representatives from various veterans organizations joined forces with members of the Department of Military and Veterans Affairs and Governor Jon S. Corzine to honor the men and women who have served America.

The ceremony was held at the Brigadier General William C. Doyle Veterans Cemetery Chapel to honor all New Jersey veterans who have served in the United States Armed Forces. The ceremony also included a flag retirement service, wherein the ashes of 2,000 flags were entombed.

Veterans Day, which was originally called Armistice Day, commemorated the end of World War I on Nov. 11, 1918 at 11 a.m. Since then the holiday has been observed at the 11th hour of the 11th day of the 11th month. In 1954, the name of the holiday was changed to Veterans Day to honor those who had served in World War II and the Korean War. Today, the holiday honors all veterans.

The Brig. Gen. William C. Doyle Veterans Memorial Cemetery is New Jersey's sole state-operated veterans' cemetery. Dedicated in 1986, it is funded jointly by state and federal dollars and is under the management of the New Jersey Department of Military and Veterans Affairs.