DCVA's Message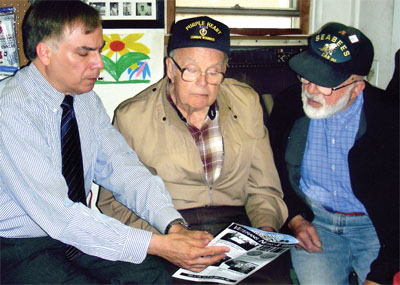 Dear Veterans, At the start of a new year most folks look back at how the past year went, look forward on what they want to do in the coming 12 months and maybe make a resolution or two. For the department three projects started in 2007 will be front and center in DMAVA's activities in the coming year. First, the plan to utilize the $1 million dollars added to our current budget by Governor Jon S. Corzine to address the needs of returning Global War on Terrorism veterans will be finalized and brought to fruition.
Then there was the additional money provided by the Governor to expand the Veterans Haven transitional housing program in Winslow Township. In 2008 we are working to get the final pieces in place to begin adding 37 additional beds to help even more homeless veterans. In 2008 we will finish the study started in the fall addressing the issue of providing home health care for our New Jersey veterans. We are working with the Department of Health and Senior Services and this report will be sent to the state legislature.
There is another item that veterans can lend a hand with in 2008 and that would be supporting the nearly 3,000 New Jersey Army National Guard Soldiers deploying in June. This deployment of the 50th Infantry Brigade Combat Team in support of the Global War on Terrorism will be the largest New Jersey Guard deployment since World War II. This deployment will affect Citizen-Soldiers and their families in every county of this state. We will need your support to send off the troops and then take care of the home front heroes, the families, in the 12 months that the Soldiers will be away. Now that was the look back and view forward, now here is my resolution, a resolution shared by Governor Corzine and Maj. Gen. Glenn K. Rieth, The Adjutant General. We need to raise the money necessary to build the World War II Memorial in 2008. This should be the resolution of every one of the nearly 545,000 veterans living in the Garden State.
The Governor wants to celebrate Veterans Day 2008 at the memorial across from the Statehouse in Trenton. We need every veteran to support this memorial, not only with donations, but more importantly with your influence. We need you to ask your family, friends and neighbors to contribute. We need businesses small and large to step up and if you have any connections with national companies that are headquartered in this state, we need those CEO's, CFO's or foundations to make a commitment to honor our World War II veterans.
Ladies and Gentlemen this is our special mission for 2008, to build this lasting tribute to our World War II Comrades, so future generations will realize and remember the dedication and sacrifice they made to preserve the freedom and liberty we continue to enjoy. They deserve so much more, can we offer less?
Thank you for the support I know will be forthcoming and may everyone have a healthy, happy and prosperous New Year.