MEDIA RELEASE
Boaters Urged to Safely Navigate Waterways this Summer
MVC and NJ State Police join forces to highlight boat safety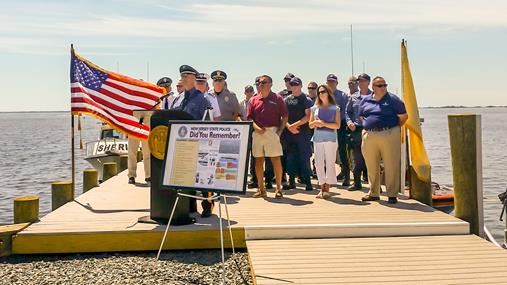 (WARETOWN) – Just in time for the Fourth of July holiday weekend, the New Jersey Motor VehicleCommission (MVC) Chairman and Chief Administrator Raymond P. Martinez today joined the New Jersey State Police Marine Services Bureau and the New Jersey Marine Trades Association to remind boaters that a boater's license is required to operate a powerboat on New Jersey's waterways.
"Safety is a priority for the Motor Vehicle Commission and it is essential to carry this message from the roadways to the waterways," said Martinez. "This weekend, and for the rest of the summer, there will be many recreational boaters and it is critical that they have undergone the necessary training that is required to obtain a boater's license in New Jersey. Law enforcement will be stepping up patrols on and off the water throughout the summer to ensure that boaters are in compliance with State law."

State law requires all operational boats to be properly titled, registered and maintained. All boats over 12 feet in length must be titled, either at the time of sale or within 10 days of purchase. All titled boats must also be registered.
Martinez added that to operate a jet ski in the State of New Jersey, the driver must be at least 16 years of age and have a boater's license or endorsement.
A Boating Safety Certificate is required to receive a boater's license or endorsement, which is obtained after completing a comprehensive safety course. More information on boating safety courses can be found at www.njsp.org. The Boating Safety Manual is available for download at www.njmvc.gov.
"As a boat operator, you have a responsibility to the entire boating community to know the rules of the water and to operate your vessel safely." said Lieutenant Colonel Jeff Mottley, Deputy Superintendent of the New Jersey State Police. "Poor driver judgment on the water can be just as deadly as on a highway, so take boat operation seriously."