MEDIA RELEASE
MVC Board Honors Two Employees Who Rescued Woman Trapped in Burning Vehicle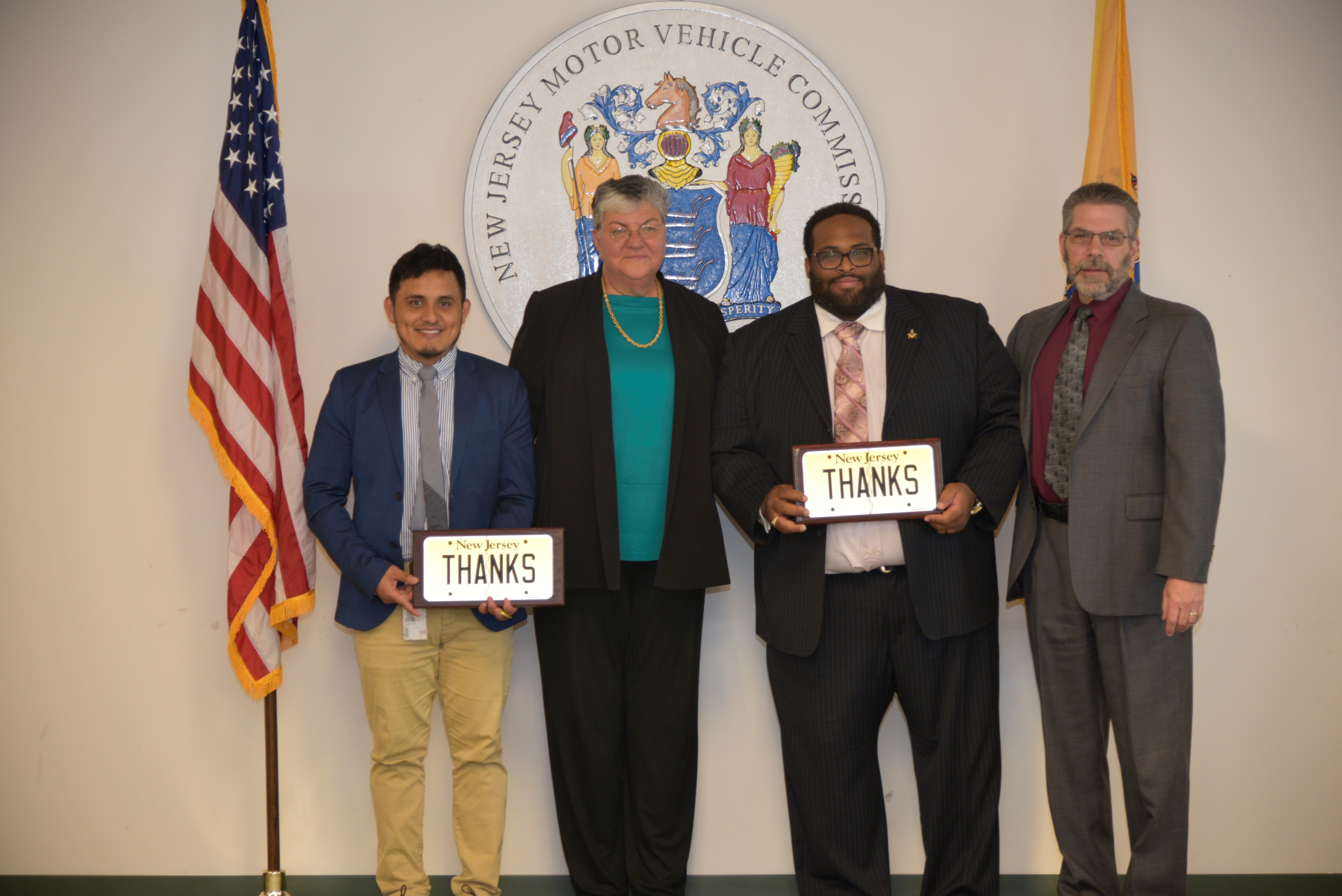 (l-r) Edwin Lazaro-Valle, Chief Administrator B. Sue Fulton, Lionel Borden, and Deputy Administrator Bob Grill
TRENTON – For MVC co-workers Edwin Lazaro-Valle and Lionel Borden, a short break from their duties in the Special Title Unit turned into a life-saving mission of high drama and higher stakes.
The loud bang and crash of an SUV careening off East State Street and straight through a plate glass window of the MVC headquarters building around 10 a.m. on April 10, set the two co-workers into motion. They raced to the burning, smoke-filled vehicle in the building's lobby, risking their own lives to extricate the woman trapped behind the wheel and move her to safety.
The two were singled out for their heroism with a proclamation from the MVC Board of Commissioners and a message of personal thanks from MVC Chief Administrator B. Sue Fulton during Tuesday's Board meeting at MVC headquarters.
"As a military veteran, I can tell you that what you men did that day was truly an act of valor and reflects the kinds of values we hold dear here at the MVC,'' Chief Fulton, a 1980 graduate of West Point, said as she recognized Lazaro-Valle and Borden.
"We at the agency and the people of New Jersey are honored to count you as co-workers and great citizens among us.''
Lazaro-Valle of Trenton, who crawled into the smoke-filled vehicle through the hatchback to begin the rescue recalled, "You could see the flames alongside the car and people were saying to get out because the car could blow up at any minute. But we weren't leaving without getting that woman out first.''
"It's just something you do as a human being,'' said Borden, of Willingboro, a married father of four children ages 8 to 14. "It doesn't matter who you are, that could have been anyone's mother or daughter, sister or family member. If I had a family member in that kind of situation, I would hope that someone would be there to help them.''
Lazaro-Valle dislodged the unconscious woman from behind the wheel, and Borden pulled her through the back and out of the vehicle. The two men laid her against the building wall on the sidewalk outside, safely away from the smoke, fire, shattered glass and other debris that was seemingly everywhere.
Trenton firefighters responded and took over from there.
Press reports noted the woman was taken to a local hospital for non-life-threatening injuries.
The MVC heroes work in duplicate titles at the agency; Borden is the more senior with 7 years on the job, while Lazaro-Valle, who is also a trained paralegal, has been with MVC for three years.
The duo returned to work that day to high praise from their co-workers in the MVC's Management and Support Unit and throughout the building; praise that was well-deserved and echoed loud and clear by MVC Chief Fulton at Tuesday's MVC Board meeting.