Gary Quatrano Named JJC Correction Officer of the Year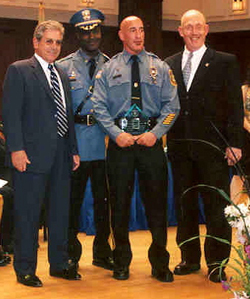 EWING - The New Jersey Juvenile Justice Commission (JJC) recently honored Gary Quatrano as one of five 2005 Correction Officer of the Year recipients. Senior Correction Officer (SCO) Quatrano was cited for his professionalism and dedication. SCO Quatrano is assigned to the New Jersey Training School.
SCO Quatrano began his employment as a correction officer with the Department of Corrections in September 1983 at the New Jersey Training School in Monroe Township. He was promoted to Senior Correction Officer in September 1984. In July 1996, he transferred from the Department of Corrections to the Juvenile Justice Commission. He is currently assigned to the New Jersey Training School. The Training School is the JJC's largest facility for delinquent juvenile males.
"I enjoy listening to our youth trying to understand the problems that brought them to the Training School," said SCO G. Quatrano. "One-on-one the students tell the truth and provide us with the better opportunity to respond to their needs with guidance."
"Through his professionalism on the job and his commitment to his community, Senior Correction Officer Gary Quatrano has proven to be a role model and mentor for the juvenile residents in JJC facilities as well for young people in his community," said Howard L. Beyer, Executive Director of the Juvenile Justice Commission. "The JJC is committed to realizing the potential of the youth in its care and helping them change the direction of their futures. Our dedicated and experienced correction officers play a critical role in fulfilling this mission."
The Juvenile Justice Commission employs approximately 500 highly trained law enforcement officers. Each officer must complete an intensive training course at the JJC's Training Academy which not only includes physical training, CPR and written exercises, but teaches officers to communicate with youth and instructs staff on techniques to diffuse tense situations.
This award is bestowed annually upon one officer from each of the five secure juvenile facilities operated by the JJC. Recipients of this award are selected based on outstanding job performance, exemplary work records, and service to their communities.
The award is given in conjunction with a proclamation issued by New Jersey Acting Governor Richard J. Codey declaring the week of May 2-6 as "Correctional Officer Appreciation Week." The proclamation recognizes the men and women who uphold justice and keep New Jersey's communities safe through their dedication and experience.
For more information on the JJC, please visit www.njjjc.com