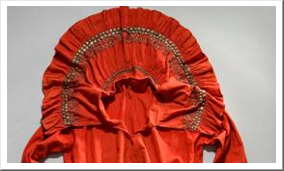 A Much Moved People: Preserving Traditions of the Delaware Indians
On extended view
Main Building - Lower Level Gallery
This exhibition offers visitors a glimpse into the lives of the Delaware Indians over a two hundred year time span. From the 1740s to the 1890s, many of New Jersey's Indians moved out of the state ahead of the ever-expanding non-Indian population. Artist and chronicler of American Indians, George Catlin (1796-1872), noted as early as 1832 that the Delaware were among the most relocated Indians in the United States. This exhibition tells the story of these migrations.
In the late 1800s and into the 1900s, the Indians that remained in New Jersey survived by adapting to a market economy. They developed handcraft industries which produced items desired by non-Indian settlers. The Indians produced baskets and other woven items such as mats and brooms, as well as carved wooden pieces such as mortars and shovels.
The descendents of the Delaware Indians who left New Jersey, as well as those who stayed, continue to follow and adapt their cultural and religious traditions, thus preserving them for future generations and sharing them with all other cultures.
The objects on view, which date from the late 1700s to the early 1900s, include a woman's blouse with silver brooches, splint baskets, a wooden shovel, a leather pipe bag decorated with glass beads, children's moccasins and a child's basket.
The exhibition was made possible through funding support provided by PSEG Foundation, with additional generous support provided by the Friends of the New Jersey State Museum.
IMAGE CREDIT: Delaware Woman's Blouse with Silver Brooches (c.1810-80)
Cotton, cotton thread, silver and dye
Collected by anthropologist Frank G. Speck
from the daughter of Chief Wooden Buffalo
Gift of Frank G. Speck
AE 3202