Upcoming Exhibitions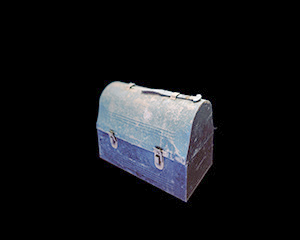 Wendel A. White: Manifest
Now through May 10, 2015
Image Caption: Wendel A. White, Lunch Box, Larkin Franklin, Sr., Eatonville Historic Preservation, Eatonville, FL (2014)
"Wendel A. White: Manifest," continues the State Museum's long history of presenting the work of New Jersey artists. Photographer Wendel White (Galloway Township, NJ) has long explored the African American cultural landscape. The thirty-six photographs included in this exhibition continue the artist's explorations to "seek out the ghosts and resonant memories expressed in various aspects of the material world." The artist states, "I am drawn to the stories 'dwelling within' a spoon, a cowbell, a book, a photograph, or a partially burned document. All are potential agents of vision."

The Manifest project is the photographer's effort to seek out objects in public/private collections that represent the material remains of slavery, abolition, segregation, Frederick Douglass, Harriet Tubman, Zora Neale Hurston, Harlem, the U.S. Civil War, and the Civil Rights Era to name a few of the narratives that inspired these photographs. These images are representations of objects, documents, photographs, and books stored in cases and file cabinets as treasured historical artifacts. White's Manifest project transforms the usually small and often fragile remnants of the struggle for freedom and equality into images larger in scale than the original subjects. The various collections include long held objects of special importance in the history of places such as Eatonville, FL, Omaha, NE or Atlantic City, NJ and other artifacts that recall the transformations of communities over time.

SPECIAL EXHIBITION PROGRAM: Artist-led gallery walk, Friday, May 8 from 12:10 to 12:50 pm, FREE

The exhibition is supported in part by the Friends of the New Jersey State Museum through the Lucille M. Paris Fund.