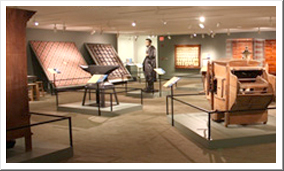 Pretty Big Things: Stories of New Jersey History
On long-term view
Main Building - 3rd Floor
A 1,400-pound anvil made by Trenton's Fisher & Norris Eagle Anvil Works. An iron pot used to render whale blubber on the Jersey Shore. A hand-carved statue of the tallest American president. A "grandfather" clock made by the first African-American clockmaker. A grandiose Dutch immigrant wardrobe crafted in the 18th century.
What do these five historical artifacts have in common? They are all pretty big things. Using a non-traditional approach that eschews strict chronology, this educational exhibit consisting of compelling artifacts and hands-on activities for families takes visitors on an eclectic journey into unknown stories of New Jersey history using some of the "biggest" artifacts from the museum's Cultural History collection.
Do you know which American presidents have historical ties to our state? Can you name the symbols found on the Great Seal of the State of New Jersey? Did you ever wonder why New Jersey is called the Garden State? Do you know the difference between locally-made furniture types known as the linen press, the kast, and the chest-on-chest?
Can you name a New Jersey industry that was represented at the famous 1876 Centennial International Exposition in Philadelphia? Come to the State Museum in order to learn the answers to these big questions of New Jersey history and to celebrate the rich historic heritage of our state.
Pretty Big Things: Stories of New Jersey History is the long-term core exhibition for the New Jersey State Museum's Cultural History Bureau, a diverse collection of historical artifacts documenting the history of everyday life in New Jersey from colonial times through the present day.
The exhibition was made possible, in part, with support from the Friends of the New Jersey State Museum through the Lucille M. Paris Fund.
IMAGE CREDIT: View of the Pretty Big Things gallery.