Teachers Professional Development Workshops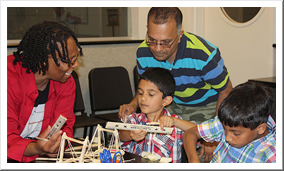 Teachers! Looking for team building and ongoing training all in one session? A chance to explore the New Jersey State Museum in a private program? Choose any of these Professional Development sessions and reserve a date and time of your choice! All workshops can be arranged for groups of 10 or more teachers. Workshops are 2 hours in length and will be presented at the Museum.
The fee is $10 per person
, includes light refreshments and all materials. To make a reservation please call 609-292-1382
The New Jersey State Museum is a registered Professional Development Provider for the New Jersey Department of Education Professional Standards Board (#2241); Teachers' Professional Development Courses fulfill the requirements for continued certification on a credit/hour basis. Certificates will also be provided to teachers from Pennsylvania & Delaware.
Archaeology and the Lenape People
Presented by Dr. Greg Lattanzi, Curator of Archaeology and Ethnography

Study prehistoric Native Americans through history, science and visual literacy and connect with Common Core standards. Through hands-on artifacts and pictures, explore the State Museum's archaeology exhibit, New Jersey's Original People.

In addition to content knowledge on prehistoric Native Americans, participants will learn the basics of Archaeology as a scientific practice, how active dig investigations and ongoing research generate scientific evidence. Learn how to connect your classroom to the Museum's resources including our Ask Our Experts program.
Teaching Indian and European First Contact in Colonial New Jersey
Presented by Karen Flinn, Assistant Curator of Archaeology and Ethnography

Through primary sources, first person accounts, property deeds, world maps, artifacts and images of people from the 17th and early 18th century this critical period in New Jersey's history is brought to life and connected to Core Curriculum. Teachers will learn about the historic relationships between Native Americans and early colonists in New Jersey, and how to use this study of American history to broaden their students understanding of the results of conflicts - both positive and negative.

The workshop will explore the historical relationship between differing Native American cultures as well as their relationships with 17th century Dutch, Swedish and English colonists. A brief overview of many of the current names of towns and rivers throughout New Jersey, in addition to marking the locations of the early European settlements as well as the settlements of New Jersey's Indians also reflects the enduring legacy of the complex story of New Jersey's Indians and Europeans in Colonial New Jersey.
Bringing History Alive with Objects and Inquiry Based Learning
Presented by Beth Cooper, MS. Ed., Curator of Education

Three-dimensional artifacts from the past have the power to bring history alive in a manner unattainable by the written word alone. This workshop will utilize the New Jersey State Museum's exhibition Pretty Big Things: Stories of New Jersey History to illustrate the storytelling role that artifacts can play.

Participants will practice using inquiry based learning and brainstorm how to incorporate it into their social studies lessons. All participants will receive a complete exhibition curriculum packet containing pre-and post-visit classroom activities.
Paint Me a Story: Art Education in Early Learning
Presented by Kerry Scott, Early Learning Coordinator

Participants in this workshop will learn techniques for utilizing art and visual thinking strategies to build their students' essential classroom skills and prepare them for grade school. This workshop will follow the success of NJSM's popular early learning program, "Paint Me a Story" and examine the techniques used therein to discuss art objects with young children. Educators will have the opportunity to practice these techniques in group activities using images from the museum's collection.

Workshop discussions will cover benefits of appreciating art from an early age, including critical thinking, creativity, and language development, as well as methods of incorporating art across the disciplines (STEM +A). Participants will receive a copy of the Paint Me a Story Curriculum Guide and a resource packet for further study at the end of the program.
The Science Classroom: Getting a Museum Boost
Presented by Dr. Diane Bushman, Assistant Curator of Science Education

From photos of Pluto to the discovery of a very special pentagon, each day offers news of exciting scientific breakthroughs. Educators face a huge challenge in enriching their classrooms to reflect the ever-changing faces of science, technology, engineering and mathematics. Let the New Jersey State Museum help! In this workshop, we'll discuss ways to incorporate new discoveries into your classroom curriculum, transforming scientific finds into Next Generation Science Standard-aligned activities.

We'll reimagine simple tools and supplies into experiments and engineering design challenges as we tackle making cutting-edge science understandable and engaging for your students. Brainstorm with your fellow educators, and take home several ideas for cool, hands-on activities that utilize the science and engineering practices of the NGSS.
Visual Arts Integration as a Tool to Increase Student Engagement
Presented by Beth Cooper, M.S. Ed., Curator of Education

Using the New Jersey State Museum's Fine Art exhibit, American Perspectives as a case study, educators will learn how to integrate visual arts across curricula, drawing on Inquiry Based Learning to increase student engagement. We will begin the session with an overview and discussion of how to look at art using the "See, think, wonder" method followed by a group practice session.

Teachers will flex their creative muscles on an art making project with guidance from NJSM staff while discussing how to incorporate art making into the classroom. The workshop culminates with teachers collaboratively designing a lesson incorporating art from the American Perspectives gallery to teach American history, civic engagement and cultural understanding.