Environmental Education Programs at the Interpretive Center
Historical Education Programs at the CRRNJ Terminal
How our Programs Correlate with NJ's Core Curriculum Content Standards
Liberty State Park Interpretive Center Public Programs

Visit the NJ's Division of Parks & Forestry's Calendar of Events to see what else is going on at Liberty State Park and the rest of New Jersey's Parks, Forests and Historic Sites.
Liberty State Park Interpretive Center Professional Development Workshops for Educators

The Interpretive Center at Liberty State Park is an environmental and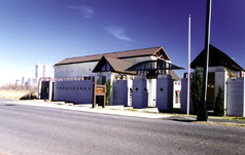 historical education facility located on Freedom Way. Open year round the center features exhibits focusing on the natural history and ecology of the Hudson River Estuary and offers programs for school and community groups and the general public. The center also offers a variety of Professional Development Workshops for formal and non-formal educators.
Find out about events and happenings at the park by downloading the latest edition of The Green Oasis - the official Liberty State Park newsletter.

The Interpretive Center is open Monday-Saturday 9 a.m. to 4 p.m. and Sundays from Memorial Day through Labor Day (closed most holidays). For more information, please call (201) 915-3409.


Environmental Education Programs at the Interpretive Center
Five Alive!
Grades: PreK - 3
Time: 1 1/2 Hours
Designed to enhance perceptual skills and increase sensory awareness of our surrounding environment. Students will take part in a guided exploration of their surroundings using all five senses: seeing, hearing, smelling, touching, and tasting.
(Taste test done with fresh herbs from our garden)

Tiny Trails
Grades: PreK - 3
Time: 1 1/2 Hours
Sometimes we don't see the amazing variety of life right beneath our feet! A story about some of nature's forgotten or misunderstood creatures will be followed by a mini safari and a closer look at some incredible beasties!
(Program is dependent upon season)

Save a Place for Wildlife
Please specify option A or B when registering.
Grades: PreK - 6th
Time: 2 Hours
A program designed to enhance the understanding of "habitat" and the importance of having a suitable variety of habitats to sustain wildlife. Upland and lowland habitats of Liberty State Park will be explored.
OPTION A*: Includes an interpretive walk and scavenger hunt on our beach habitat.
OPTION B: Includes an interpretive walk and scavenger hunt on our nature path.

Tree-mendous Trees!
Grades: PreK - Adult
Time: 1 1/2 - 2 Hours
Students will participate in a variety of fun, hands-on activities from the highly acclaimed curriculum guide; Project Learning Tree. Tree structure, growth patterns, survival needs & uses will be examined as well as their importance in human history and culture.

Raptor Rap
Grades: 3 - 8
Time: 1 1/2 - 2 Hours
What magnificent birds of prey do we find in New Jersey? What special adaptations do they need to survive? Are they as big as you? Which ones visit us in Liberty State Park? All these questions and more will be answered in this fun, interactive study of these magnificent birds.

Explore the Nightlife
Grades: 3 - 8
Time: 2 Hours
Join us as we delve into the mysterious world of nocturnal animals. Through stories, crafts and hands-on activities we will gain a better understanding of what it takes to fill this nighttime niche.

Birds and Habitats
Grades: 3 - Adult
Time: Varies by program
A specialty program for students interested in bird life and birding in the park. This program contains a pre-lesson where students will make their own "field guide". Upon completion of the guides, students will go out bird watching and explore various habitats of the park in search of these elusive creatures.

Estuary Explorers*
Grades: 4 - Adult
Time: 2 Hours
A hands-on exploration of the life in and around the Upper New York Bay. Older students may seine in the river for fish and shrimp, and/or comb the beaches for shells and other treasures. Wetlands values, biological and economic, will be discussed.
(Program is seasonally dependent )
* your vehicle is required to transport students to and from the study site.

The Urban Estuary for Young Scientists*
Grades: 5 - Adult, College
Time: 2 1/2 - 3 Hours
Similar to "Estuary Explorers" with water quality sampling experiments to test a variety of parameters, including pH, Salinity, and Dissolved Oxygen.
(Program is seasonally dependent )
*your vehicle is required to transport students to and from the study site.
back to education programs
back to top

Historical Education Programs at the CRRNJ Terminal
Dreams of Distant Shores
Grades: 4 - Adult
Time: 1 1/2 Hours
This presentation concentrates on the historical significance of the Statue of Liberty, Ellis Island and the CRRNJ Terminal and the role they played in America's immigration history. Interactive activities help students explore reasons for the huge influx of immigrants in the early 20th century.

The Historic CRRNJ Terminal
Grades: 4 - Adult
Time: 1 - 2 Hours
This program is designed to illustrate the role of the Central Railroad of New Jersey (CRRNJ) Terminal complex in the history of New York Harbor. Highlighted is the importance of transportation and the role of the terminal in the immigrant's journey to a new life. This program can include a walking tour of the
building.

New Jersey's Early Inhabitants
Grades: 4 - Adult
Time: 1 - 2 Hours
This program concentrates on the Native American group that was one of the earliest residents of the Garden State: the Lenape Indians. An interactive slide presentation depicts the early residents' dependency on the natural resources around them for their survival. Storytelling, myths and a Native American hands-on activity are included.

CRRNJ Terminal Architecture: Forms and Functions
Grades: 4 - 8
Time: 1 1/2 Hours
An educational program created to foster an appreciation and awareness of the variety of architectural features found throughout the CRRNJ Terminal. Accompanied by a historic interpreter, students will roam the grounds of the historic railroad terminal with activity worksheets observing how the terminal's designers manipulated space, light and color in forming this impressive structure.
back to historical education programs
back to top

Reservations
To schedule an environmental education program, please call the Interpretive Center at (201) 915-3409. To schedule a historical education program, please call the Liberty Science Center at (201) 253-1539.
If our calendar permits, we will tentatively hold a date for you. We will forward a reservation form for you to complete and return. Your program will not be confirmed until we receive your completed reservation form. We will then send you a confirmation letter, directions and pre-lesson activities.

Logistics & Notes
- Programs can be scheduled for morning or afternoon.
- The length of the program is flexible, depending on your needs.
- Programs are available to groups of ten or more.
- Maximum group size is dependent on staff availability.
- All programs MUST be reserved in advance.
- There is NO FEE for any of these programs.
- For programs marked *, your bus is required to stay with your group for the entire length of the program.
- The environmental education programs are taught wholly or partially outdoors regardless of weather. (Please have all participants come prepared!)

Outreach Programs (We come to your school)
Outreach Programs are offered from December through March to schools within our region. They can be scheduled for morning or afternoon, one class at a time, up to three classes of the same program per day. For a complete listing of outreach programs, please call the Interpretive Center (201) 915-3409.

Teachers: Include us in your PIPs
We are registered as a Professional Development provider with the NJ Department of Education. Please call us for a list of Professional Development Opportunities.
Our goal is to provide quality education programs which improve environmental and cultural literacy. We encourage critical-thinking, problem-solving, and cooperative learning. Our lessons and education resources are easily integrated into your curriculum. All programs have been correlated to NJ Core Curriculum Content Standards.
back to booking your program
back to top
Interpretive Center Public Programs: Fall/Winter 2012-2013
All Public Interpretive Programs have been canceled due to damage sustained from superstorm Sandy. if you would like to be added to our email list for when we being programming again, just email us at lspic@verizon.net.
If you would like to register for any of the programs below, complete this form and be sure to include the program title and date. Mail your completed registration form to: Liberty State Park, Interpretive Center, 200 Morris Pesin Dr., Jersey City, NJ 07305. We will send you a confirmation of your registration and directions to our location. For further information, call (201) 915-3409. You can also fax your registration to (201) 915-3442 or email us at lspic@verizon.net. Spaces are limited! Children 12 and under must be accompanied by an adult. Groups of 8 or more call for special arrangements.
Bird Walk
October 13
November 3
December 1
January 5, 2013
10 a.m. to noon
FREE, Pre-registration required
Join us for a leisurely stroll along Liberty Walkway in search of winter visitors to the park. Possible species sightings may include ruddy ducks, mergansers, grebes, buffleheads and many more. Dress to be outside and bring binoculars if you have them, as we have a limited number that can be borrowed.
Recycled Crafts
November 17
10 a.m. to noon
FREE, Pre-registration required
Think twice before you throw away that egg carton or toilet paper tube, it can be used to create all kinds of crafts. Join us to see how to reduce waste by re-using some common household items. From cards to napkin rings, we will help you get ready for the holidays.
For the Birds
December 15h, 2012
10 a.m. to noon
FREE, Pre-registration required
Come to the Interpretive Center and make some tasty treats that you will take home and put outside to help our feathered friends make it through the cold days of winter.
Papermaking
February 2, 2013
10 a.m. to noon
FREE, Pre-registration required
Liberty State Park staff will lead you in a hands-on workshop creating your own paper from used paper and natural materials.
Worm World
March 2, 2013
10 to 11:30 a.m.
FREE, Pre-registration required
Come explore the fascinating world of worms and vermiculture. Meet the worms up close and learn how they turn our food waste into compost. Find out how to set up your own worm bin at home.
Nature Discovery Day
January 12, 2013
March 16, 2013
10 a.m. to noon
FREE, Pre-registration required
Which tree did that leaf come from? What bird is in your backyard? Our hands-on activity stations will allow you to answer these questions and more, at our nature discovery day.
back to public programs
back to top
Interpretive Center Professional Development Workshops for Educators
Liberty State Park Interpretive Center is committed to providing professional development opportunities for teachers, educators and other youth leaders. The following environmental education workshops are offered on a regular basis at the Interpretive Center. We also offer these workshops by request to schools, teacher colleges and other organizations as pre- or in-service programs. If you would like more information or a current list of our upcoming workshops, please call us at (201) 915-3409, or email us at lspic@verizon.net.

Project Learning Tree (PLT)
Grades: K- 12
PLT is an award-winning environmental education activity guide with over 100 lesson plans for preschool through 12th grade students. PLT uses the forest as a "window on the world" to increase students' understanding of our complex environment; to stimulate critical and creative thinking; to develop the ability to make informed decisions on environmental issues; and to instill the confidence and commitment to take responsible action on behalf of the environment. PLT is designed to work in rural, suburban, and urban area, whether there is a forest or just a single tree.

Project WILD & Aquatic WILD
Grades: K - 12
The goals of Project WILD & Aquatic WILD are to assist learners of any age in developing awareness, knowledge, skills and commitment that will result in informed decisions, responsible behavior and constructive actions concerning wildlife and the environment. These programs are based on the premise that students and teachers have a vital interest in learning about the earth as home for people and wildlife. Wildlife is emphasized because of its intrinsic, ecological and other values. Project WILD can help prepare young people for decisions affecting humans, wildlife and the environment. WILD and Aquatic WILD are considered separate programs and each require a 6 hour workshop.

WILD School Sites
Grades: K - 12
In 1994 -95, NJ Project WILD began to expand its programs to include an "action piece" entitled WILD School Sites. WILD School Sites promotes the development of outdoor learning centers, built by students and teachers, to be incorporated into a variety of curricular areas. This is an opportunity for teachers and students to work with their community to improve wildlife habitat on their school grounds.

Project WET (Water Education for Teachers)
Grades: K - 12
The Project WET activity guide is packed full of lessons and activities that engage students in learning about water and the importance of water resources. The goal of Project WET is to facilitate and promote the awareness, appreciation, knowledge and stewardship of water resources through the development and dissemination of classroom-ready teaching aids.

Wonders of Wetlands! (WOW!)
Grades: K - 12
The ultimate wetlands teaching guide! The first part of this guide is filled with background information on wetlands, including definitions, values, wildlife habitats, etc. It's an essential and invaluable resource for an educator preparing to teach about wetlands. The rest of the guide is brimming with fantastic, classroom-tested wetland activities, incorporating Science, Social Studies, Arts, Political Science, and more...

Bridges to the Natural World
Grades: Pre K - 6
The New Jersey Audubon Society developed Bridges to the Natural World to assist teachers in leading students to a better understanding of their local natural environment. Activities are designed to facilitate the transition from classroom or indoor teaching to an outdoor learning experience. The concepts and skills from each activity are cross-referenced to the grade level concepts and skills recommended in the Elementary Science Curriculum Guide, published by the NJ Department of Education.
back to professional development workshops
back to top