DDS recognizes that employment is essential for the long term prosperity of individuals with disabilities.  Please find links and resources below. click here.
DDS Partners with National Ad Campaign to Increase Employer Awareness of Workers with Disabilities...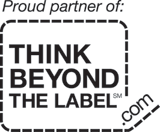 TRENTON, NJ - January 25, 2010 -- The Division of Disability Services (DDS) has used part of its Medicaid Infrastructure Grant (MIG) to join the national "Think Beyond the Label" promotional campaign to increase employer awareness of workers with disabilities.

The Think Beyond the Label campaign was formally launched this week and will include television advertising and print ads in major newspapers throughout the country. This New York Times article explains the ad campaign's strategy for attracting attention:  Using Humor in a Campaign Supporting Disabled People.




| | | |
| --- | --- | --- |
|   | Print ads from the new campaign using comical labels, intended to encourage employers to ignore labels when hiring people with disabilities. |   |
The MIG program stems from Section 203 of the Ticket to Work and Work Incentives Improvement Act (TWWIIA) of 1999, to support State efforts to enhance employment options for people with disabilities.  The Centers for Medicare & Medicaid Services (CMS) administers the MIG program, which supports people with disabilities in securing and sustaining competitive employment in an integrated setting.
National resources...

The U.S. Department of Labor has announced the results of its Tools for America's Job Seekers Challenge. Recommendations have been tallied, and the top-rated sites in categories including general job boards, niche tools, career tools, career exploration tools and Web 2.0 (social networking) are now available.

Visit Disability.gov's Jobs & Career Planning section for additional employment resources.

---

 

These "Webinar" training events provide learning opportunities about the Americans with Disabilities Act (ADA) and other disability-related subjects. Some of these Webinars sound like they would be good for employers, employees, and/or job applicants. 

Topics include reasonable accommodations; assistive technology; ensuring access for customers with disabilities; accommodation ideas for employees with traumatic brain injuries (TBI); creating accessible videos and many other subjects covering transportation, employment, education and other areas that affect the lives and independence of people with disabilities.  The ongoing URL for this Webinar Calendar is:

http://www.adacourse.org/events.php#content

---
Workforce3 One has released a new disability and employment resource page to make employment-related information and promising practices available to the workforce system. This new disability and employment community of practice will help promote positive employment outcomes for people with disabilities and expand the capacity of the One-Stop Career Center system to serve customers with disabilities. The new resource also has information to help the business community understand disability employment-related topics such as tax incentives and recruiting and accommodating employees with disabilities.
Posted: 10/06/09 to
Employment
President Obama and Secretary Duncan both recognize the critical role that education plays in empowering the next generation of Americans with disabilities with a strong foundation and expectation of academic achievement, employment and the ability to give back to others and their communities. American Recovery and Reinvestment Act funding represents an unprecedented investment in students with disabilities and the administration's commitment to helping young people with disabilities achieve success in school and work.
Posted: 10/06/09 to
Education
President Obama has announced that his Administration is taking several steps to ensure that there is fair and equal access to employment for all Americans, particularly the 54 million people in this country living with disabilities. These actions include collaboration between the Office of Personnel Management (OPM) and the Department of Labor's Office of Disability Employment Policy (ODEP) to sponsor a day long Federal Government-wide job fair for people with disabilities.
Posted: 10/05/09 to Employment