The Division of Disability Services sometimes partners with institutions of higher learning to conduct research studies about the needs of the disability community.

Both DDS projects and statewide projects commissioned by other state agencies can provide valuable information for the DDS community, advocacy groups and legislators.  The reports and data are listed below:
Reports and Data...
Compilation of Federal Disability Statistics Released
NJ Strategic Plan On Employment Of People With Disabilities - Final

Meeting the Employment Transportation Needs of People with Disabilities in New Jersey

Handicapped Parking: New Jersey's Law for Compliance with the Americans with Disabilities Act, regarding accessible parking requirements
National Reports of Interest to the Disability Community...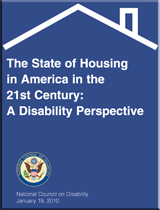 The National Council on Disability (NCD) has released a report entitled The State of Housing in America in the 21st Century: A Disability Perspective. The report provides recommendations to improve housing opportunities for people with disabilities. The research contained in this report presents a comprehensive overview of the state of housing in the twenty-first century, and answers important questions about the current housing needs and options for people with disabilities living in the United States. The complete report can be downloaded in PDF format.