DHS announces web resource to aid the hungry
For Immediate Release:
April 30, 2007

For Information, Contact:
Suzanne Esterman, (609) 292-3703
And, with Department of Agriculture, donates $125,000 to NJ Food Banks
TRENTON -- Department of Human Services' Acting Commissioner Jennifer Velez, with the NJ Hunger Prevention Advisory Committee, today unveiled a new web site where providers and individuals can access free local food services, nutrition information and the online application for Food Stamps.
"In New Jersey, too many people have trouble putting food on their tables. Some may not know that they could be eligible for Food Stamps. Others may not know how to access a food pantry in their area. And still more may not know that there are resources available to help," said Acting Commissioner Velez. "That's why www.endhungernj.org is so important."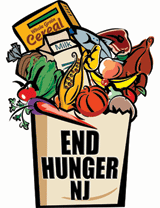 From this site, providers, individuals and families can find free, local sustenance; information on nutrition and food safety; and access an online, multi-lingual screening tool and application for the Food Stamps program. Also from this page, benefactors can find where to send food or monetary donations.
To kick-start donations, Acting Commissioner Velez was joined by Department of Agriculture Division of Food and Nutrition Director Emma Davis-Kovacs to provide the state's seven food banks with a $125,000 grant. The grant is part of the Hunger Prevention and Nutrition Assistance Program Act, which appropriates federal Temporary Assistance to Needy Families (TANF) funds for emergency food programs.
"These block grants provide much needed funding for our emergency feeding operations, which struggle each day to supply local food pantries, soup kitchens and homeless shelters with enough food to feed their clients," said Director Davis-Kovacs. "The grants, along with Governor Corzine's Hunger Initiative funding, have provided a boost to the system that feeds our neediest citizens."
For more information on Food Stamps and other assistance, visit www.endhungernj.org.