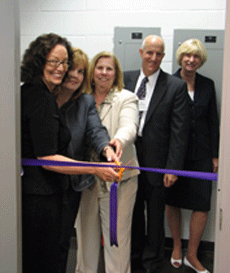 (Left to right: Director, NJ Library for the Blind and Handicapped Director, Faith Lundgren; Comcast Regional Director of Community Affairs, Kimberly Smith; DHS Deputy Commissioner Ann C. Kohler; CBVI Executive Director Vito DeSantis; and NJ State Library Director Norma Blake, cut the ribbon on the new RTAC.)
The event showcased the newly-opened Regional Technical Assistance Center located at NJLBH and operated by CBVI. The service partnership between the two state agencies has been strengthened by a generous private-sector contribution from the Comcast Foundation, which contributed $20,000 to purchase a SMART board and additional technology to aid in computer training for people who have a visual impairment.
"We are pleased to be a part of the RTAC, which is another example of how the State Library and its bureaus are harnessing the innovation of technology to improve the quality of life for the blind and visually impaired. By forging alliances with generous partners like Comcast, the State Library looks forward to improving services and helping LBH clients to face the future with confidence," stated New Jersey State Library Director Norma E. Blake.
The state-of-the-art technology, resource and development center focuses on innovative technical solutions for people with visual impairments. The center will give eligible blind or visually impaired CBVI clients, as well as the general public, the opportunity to experience the cutting-edge technology available for people with visual disabilities.  The RTAC also promotes the integration of assistive technology into applications for use by individuals with visual disabilities at school, work, home and in other areas of the community, giving people with disabilities the computer skills required for entering the work force. 
The Center is fully accessible to people with disabilities, sound-proofed, and equipped with an induction loop system to assist those with hearing aids.  It seats four students at computer stations and includes screen reading and magnifying software. The room includes a hands-on display area for students to experience using a wide variety of adaptive equipment, including Closed Circuit television, Braille note-taking devices and portable magnifiers. 
Greg Arnold, Sr. Regional Vice President of Comcast in New Jersey stated, "Comcast is excited to work with the NJ Library for the Blind and Handicapped.  The Library's Regional Technical Assistance Center is an invaluable resource that opens the world of Internet technology to adults and seniors who are visually impaired or disabled, and it's rewarding to know the equipment funded by this Comcast Foundation grant will make that technology even more accessible and also eliminate language barriers."
For more information on the New Jersey Library for the Blind and Handicapped, contact Karen Carson at 609-530-3258 or kcarson@njstatelib.org