March 26, 2015 - DCA Commissioner Tours Neighborhood Revitalization Tax Credit Project in Newark
FOR IMMEDIATE RELEASE: Friday, March 26, 2015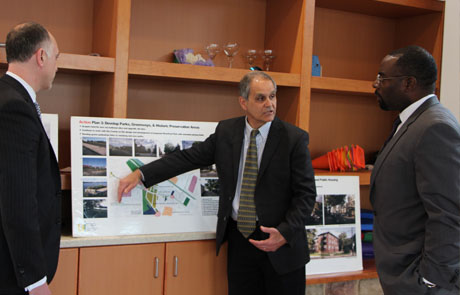 DCA Commissioner Tours Neighborhood Revitalization Tax Credit Project in Newark
Million Dollar Grant Program Creates Opportunities for Nonprofit to Develop Sustainable Communities in Newark
NEWARK, NJ – New Jersey Department of Community Affairs (DCA) Commissioner Richard E. Constable, III recently spent the afternoon reviewing redevelopment plans and touring the Ironbound Community Corporation's Early Learning Center in Newark, New Jersey. Ironbound Community Corporation (ICC) is a widely respected nonprofit that addresses unmet needs and service gaps, chiefly for under-served individuals and families in the Ironbound section of Newark.
The DCA's commitment to the ICC is demonstrated by a $985,000 grant awarded to the organization through the Neighborhood Revitalization Tax Credit (NRTC) program. ICC will use the NRTC grant to rehabilitate ten abandoned housing units on the blocks surrounding Hawkins Street School as affordable housing. Additionally, funds will also be used to include greening, traffic calming, signage, and bus stop improvements as part of the East Ferry Streetscape Improvements.
"The NRTC program is an excellent way for public, private and nonprofit organizations to combine resources and improve New Jersey's neighborhoods," Constable said. "It is gratifying to see first-hand how the Ironbound Community Corporation is working to bring positive, transformational changes to its community," he said.
Funding was provided with the help of a $250,000 contribution from Horizon BCBSNJ to the NRTC program. Other corporate sponsors that contributed funding for this project, totaling $985,000, include JP Morgan Chase, Public Service Enterprise Group, Electric and Gas, RTL Services, Inc., and TD Bank. Companies that fund the program receive a 100 percent tax credit against various state taxes for their investments in revitalizing low and moderate income neighborhoods in eligible cities.
"The NRTC program is one way that Horizon has been able to give back to and invest in the communities we serve and in particular, the city where we have been headquartered as a company for the last 82 years," said Jonathan R. Pearson, Director of Corporate Social Responsibility for Horizon BCBSNJ.
"We are very thankful for the support we receive from the DCA and companies organizations like Horizon Blue Cross Blue Shield of New Jersey," said Joseph Della Fave, Executive Director, Ironbound Community Corporation.
Ironbound Community Corporation is a social service organization founded in 1969, created to empower the Ironbound section of Newark and produce a just, vibrant and sustainable community. ICC plays a leadership role in organizing and collaborating with community members and with stakeholders on a range of neighborhood issues. Ironbound Community Corporation has had an approved NRTC plan since 2008, for the Ironbound neighborhood of Newark. Additional information on ICC can be found at http://ironboundcc.org/.
The NRTC program is administered by the Division of Housing and Community Resources and provides community based non-profit groups with corporate funding for implementing neighborhood revitalization plans.  The nonprofit organizations agree to allot at least 60 percent of the funds to housing and/or economic development activities.  The remainder may be used for complementary activities such as supportive services, improvements to streetscape and public open space, and community outreach activities.  NRTC has approved 96 grants to date to implement these neighborhood plans totaling $77 million in funding.
More information on the Neighborhood Revitalization Tax Credit program, visit
http://www.nj.gov/dca/divisions/dhcr/offices/nrtc.html
CONTACT:
Tammori Petty
(609) 292-6055