February 3, 2016 - Main Street New Jersey Offering NJ Downtown Institute on February 9, 2016
FOR IMMEDIATE RELEASE: Wednesday, February 3, 2016



Training Teaches Entrepreneurs How To Take Their Business to the Next Level with Effective Management

Trenton, NJ –Seats are still available for this winter's 2016 NJ Downtown Institute presented by the New Jersey Department of Community Affairs' (DCA) Main Street New Jersey & Improvement District Program. The workshop, titled "Thinking Entrepreneurially: Running Downtown as a Business," will teach participants how effective management can maximize scarce financial or capital resources and achieve revitalization goals. This full-day training event will take place on Tuesday, February 9, 2016 in heart of the quaint and historic village Allentown, NJ, a Main Street New Jersey community since 2014.

Attendees will learn to:
Shift leadership thinking from organization caretaker to nonprofit entrepreneur
Learn techniques for thinking and/or creating new business development opportunities
Develop skill sets to properly examine and analyze new resource opportunities
The workshop will be taught by featured speaker, Matt Wagner, PhD of the National Main Street Center. Matt leads the Center's efforts to expand technical service offerings and offer preservation-based economic revitalization services directly to communities. Wagner has more than 20 years of private sector and nonprofit management experience in downtown development, entrepreneurship and tech-based economic development
"The Main Street New Jersey & Improvement District Program offers powerful economic revitalization tools that provide technical expertise, resources and support for preserving and revitalizing of historic downtowns," said DCA Commissioner Charles A. Richman, "Districts participating in the Main Street program can spur the rehabilitation of buildings and the community as a whole while at the same time, generating new investment."

This session is recommended for neighborhoods and programs that are building their "Main Street" organizations. It is also for those who are already established in managing their downtowns, but want to capitalize on their resources.

The class will be held on Tuesday, February 9, 2016 from 9:00 a.m. – 4:00 p.m., at Allentown Methodist Church Fellowship Hall, 23 Church Street, Allentown, NJ.

Promotional partners are the New Jersey Bike & Walk Coalition, Retail Minded, New Jersey American Planning Association, Downtown New Jersey, Classic Towns of Greater Philadelphia and Transit Village Initiative.

The DCA Main Street New Jersey program, established in 1989, is a revitalization program that promotes the historic and economic redevelopment of traditional business districts in New Jersey. The Improvement District program helps businesses and property owners of a community to organize as a single entity, raise funds for activities that enhance or expand upon municipal services, and manage themselves to become a more effective destination for commerce.

For more information and to register for the February 9th session, visit: https://www.eventbrite.com/e/thinking-entrepreneurially-running-downtown-as-a-business-tickets-19207069863.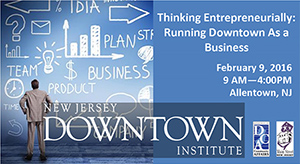 Register for NJ Downtown Institute training session
More
CONTACT:
Tammori Petty
or Emike Omogbai
(609) 292-6055