February 25, 2016 - Christie Administration Marks Grand Re-Opening of Affordable Housing Community in Ocean
FOR IMMEDIATE RELEASE: Thursday, February 25, 2016

---
Heritage Village at Ocean Provides 96 Units of Affordable Rental Housing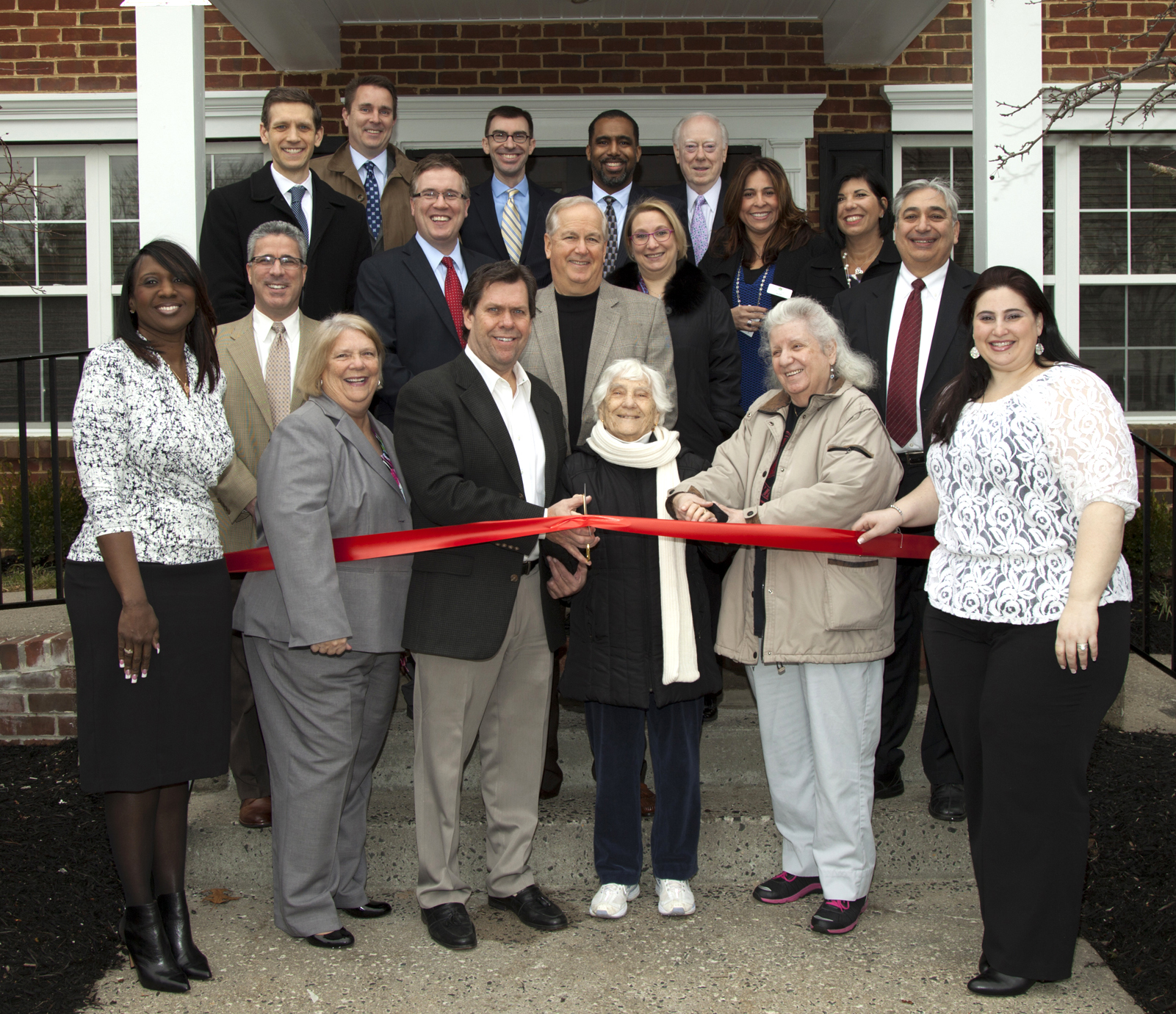 Front Row Left to Right: Tania Brown, VP of CIS Management, Councilwoman Donna Schepiga; Mayor Christopher Siciliano; resident Maria Pota, resident Madeline Clifton; Carrie Schultz, Property Manager
Middle Row Left to Right: Councilman Robert V. Acerra, Sr.; Township Manager Andrew Brannen; Councilman Richard Long; Barbara Schoor, VP of CIS; Kat Verdi, Help My Parents Assisted living Advisors; Christiana Foglio; Owner and CEO; Anthony Marchetta, Executive Director of NJHMFA;
Back Row Left to Right: Evan Williams, Prudential; Sean Cullen, ACRE Capital; (Previously with RBC Capital Markets); Jeffrey Oakman, Director of Development at CIS; Jeffrey Arthanais Williams, Freddie Mac; Raymond Ross, President of the Ocean Senior Citizens Housing Corporation's Board.
Ocean Township, NJ – New Jersey Housing and Mortgage Finance Agency (HMFA) Executive Director Anthony L. Marchetta recently joined local officials and representatives of Community Investment Strategies, Inc., (CIS) to celebrate the grand re-opening of Heritage Village at Ocean, a 96-unit affordable housing community for seniors and special needs individuals. The community consists of three, three-story buildings, each featuring 32 one-bedroom apartments.
The Heritage Village at Ocean property is located in a residential and senior neighborhood, within two miles of schools, shopping, restaurants, transportation, and highways. Originally built in the early 1990's, Heritage Village at Ocean is the former Whalepond Village. Site amenities include a newly renovated clubhouse and outdoor patio area. Tenants will also have an opportunity to access a pool and tennis courts located within the larger condominium development adjacent to the site. In addition to the development's three residential buildings, a separate one-story building houses a manager's office and community room. There are also 116 parking spaces.
"We are very pleased to be able to help finance this rehabilitation/acquisition project which, now in its completely revitalized state, will present brand new affordable housing opportunities for seniors and special needs individuals," HMFA Director Marchetta points out. "The grand re-opening of Heritage Village at Ocean provides a much-needed affordable housing resource in Monmouth County."
The HMFA, an affiliate of the New Jersey Department of Community Affairs (DCA), provided Heritage Village at Ocean approximately $5.9 million in financing, an additional $500,000 in Special Needs Housing Trust Fund monies, and approximately $3.4 million generated from the sale of Low Income Housing Tax Credits (LIHTC).
The scope of the project's rehabilitation includes the replacement of roofs, gutters, siding, and the installation of standby gas backup generators to service common areas and elevators. Apartments feature brand new, energy efficient lighting and appliances, new kitchen counters, and bathroom improvements. There will also be site improvements including new walkways, landscaping and lighting.
Heritage Village at Ocean cost approximately $12.6 million to acquire and redevelop, generated nearly $20 million in one-time economic output created approximately 119 direct and indirect/induced full-time jobs and $730,000 in state and local taxes during construction. Now complete, the project will continue to add value to the community by providing more than $2.2 million in ongoing economic output, 12.6 direct and indirect/induced full-time jobs annually, and approximately $126,000 in state and local taxes.
"Heritage Village at Ocean demonstrates the Christie Administration's commitment to supporting quality senior housing developments that allow senior citizens on low, fixed incomes to age comfortably in place and maintain a sense of independence," said DCA Commissioner Charles Richman, whose is also Chairman of HMFA. "This affordable housing community will help replenish the stock of affordable senior rental housing lost to Superstorm Sandy so that storm-impacted households, especially those of limited financial means, can return to live in or nearby their home communities."
Heritage Village at Ocean was developed by CIS, a certified woman-owned business enterprise that specializes in multifamily housing, including 55+, senior housing, and mixed-use redevelopments as well as market-rate and affordable housing.
For more information on HMFA programs, please visit www.njhousing.gov.
CONTACT:
Tammori Petty
or Emike Omogbai
(609) 292-6055