April 26, 2016 - Christie Administration Marks Start of Redevelopment for Glassworks at Aberdeen
FOR IMMEDIATE RELEASE: Tuesday, April 26, 2016

---
Redevelopment of the Old Anchor Glass Container Corporation Site Will Include 110 Units of Affordable Rental Housing for Families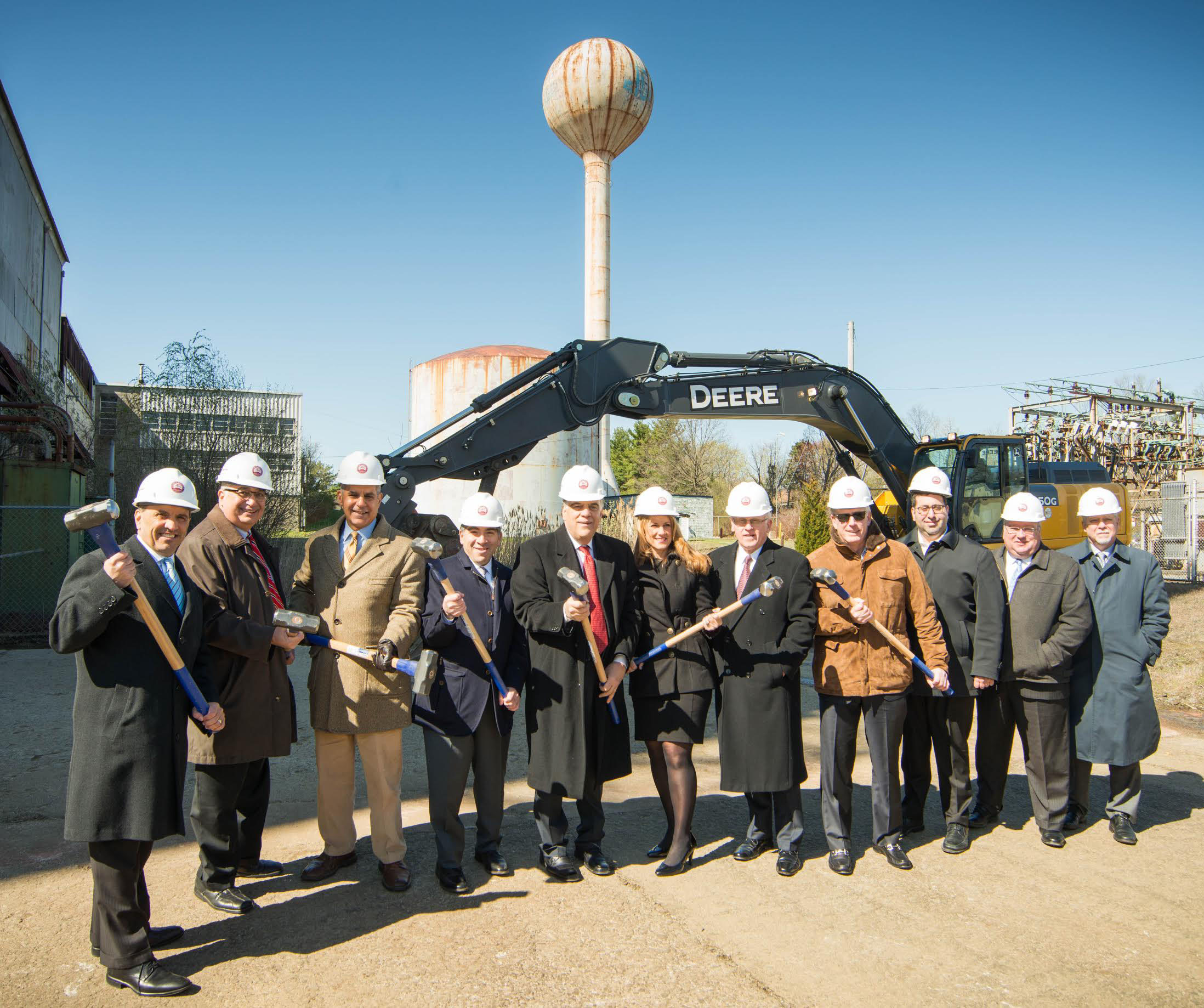 ABERDEEN – New Jersey Housing and Mortgage Finance Agency (HMFA) Executive Director Anthony L. Marchetta joined state and local officials and community leaders earlier this week to celebrate the start of redevelopment for Glassworks at Aberdeen, a master planned community in Monmouth County that will include 110 affordable apartments for working families. Six of the apartments will be set aside for special needs individuals.
The HMFA, an affiliate of the New Jersey Department of Community Affairs (DCA), awarded the project $16.9 million through the Agency's Conduit Bond program and federal 4% Low Income Housing Tax Credits (LIHTC), which are expected to generate $8.9 million in private equity. Additionally, the project was awarded $17.5 million in federal Community Development Block Grant (CDBG) Disaster Recovery dollars through the Fund for Restoration of Multifamily Housing (FRM) Program. The FRM Program was created in the aftermath of Superstorm Sandy to provide qualified housing developers with subsidies in the form of zero- and low-interest loans to finance affordable housing development in the nine counties the federal government designated as the most impacted by the storm.
"Glassworks at Aberdeen demonstrates the Christie Administration's commitment to supporting housing for working families throughout the state," said DCA Commissioner Charles A. Richman, who also serves as Chairman of the HMFA. "The revitalization of the old Anchor Glass Factory site into a vibrant mixed-use community around a Main Street hub will put residents of these apartments in close proximity to shopping and entertainment."
Ingerman Development Company, LLC, which develops multi-family communities, is a joint venture partner with Somerset Development for the 51-acre mixed-use redevelopment of the Anchor Glass Factory. The 110 affordable apartments will be situated on nearly two acres of the redevelopment site and will be located in four, three-story breezeway-style walk up buildings and one, four-story corridor-style building with elevator service. The surrounding master planned community will include a phased build-out of over 75,000 square feet of retail, a 110-room hotel, movie-theater, and 390 market-rate units and for-sale townhomes.
"In the State's ongoing effort to provide affordable housing in those counties hardest hit by Superstorm Sandy, we are very pleased to be able to provide financing for this newest affordable housing community for working families in Monmouth County," said HMFA Executive Director Marchetta. "Also, the transformation of an industrial site that sat vacant for two decades into a lively, mixed-use community is part of HMFA's overall mission to create vibrant communities and enhance community well-being.
The affordable rental community will offer 22 one-bedroom units averaging 760 square feet; 60 two-bedroom units averaging 1,016 square feet; and 28 three-bedroom units averaging 1,261 square feet. One bedroom rents will range from $344-$890, two-bedroom rents will range from $413-$1,074, and three-bedroom rents will range from $715-$1,230.
Amenities will include a fully-furnished community space with a warming kitchen in the corridor-style building, as well as a leasing/management office and supportive services space. The apartments will feature Energy Star appliances with high-quality finishes, including ranges, refrigerators, air conditioning, washers/dryers, garbage disposals, and dishwashers. In addition, 140 parking spaces will be provided for the project.
Six units, including three one-bedroom units and three two-bedroom units, will be set aside for individuals with developmental disabilities. A social services provider will either provide or facilitate linkages to residential, medical, vocational, and recreational supports and opportunities based on individual needs, choices, and assessments, either in-house or via collaborations with other providers.
During the first 90 days of lease-up at the affordable apartment complex, priority for residency will be given to Sandy-impacted individuals. It is anticipated that apartments will be available in the summer of 2017. Individuals who are interested in learning more about the project and its rental units may call (856) 662-1730.
For more information on HMFA programs, please visit www.njhousing.gov.
CONTACT:
Lisa Ryan
(609) 292-6055