| | |
| --- | --- |
| &nbsp &nbsp New Jersey Division of Fish and Wildlife | |
Wildlife Habitat Incentives Program
Division Partners with Federal Program to Benefit Fish and Wildlife in New Jersey

By Barbara Phillips
NRCS Public Affairs Specialist
NJ DEP Division of Fish and Wildlife has successfully utilized the Wildlife Habitat Incentives Program (WHIP), a federal program administered by the US Dept. of Agriculture's(USDA) Natural Resources Conservation Service (NRCS), to restore wildlife habitats around the state. NJ F&W and NRCS have worked cooperatively to develop plans and provide technical expertise to accomplish several valuable projects in four of the six habitats that have been designated for WHIP funding in New Jersey.
About the Wildlife Habitat Incentive Program (WHIP)
WHIP is a voluntary program designed to help owners of non-federal lands improve wildlife habitat on their property.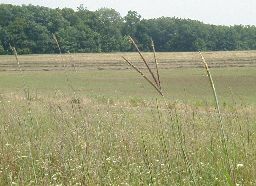 USDA, Natural Resources Conservation Service (NRCS) administers this program and provides free technical assistance to implement wildlife habitat improvement practices to approved applicants. Project costs can be reimbursed up to 75%.The Wildlife Habitat Incentives Program, which began in 1998, has generated a great deal of interest among wildlife enthusiasts who own land in New Jersey. More than 175 landowners have implemented WHIP practices on over 7500 acres to date.
Sign up for Wildlife Habitat Incentives Program (WHIP) is ongoing, but landowners who apply now through March 14, 2003, will be considered for the next round of funding. In order to be eligible for funding, a project must address one of the six targeted habitats designated for WHIP funding in New Jersey. Eligible WHIP projects must be either:
located in Lower Cape May (a priority wildlife habitat area)
on lands providing habitat for the federally threatened bog turtle
dedicated to early successional wildlife habitat, such as grassland restoration
dedicated to riparian wildlife habitat
for invasive exotic vegetation control, or
a school-site habitat development project for environmental education
Bog Turtle Habitat Restoration and Management
WHIP Designated Habitat: Land providing habitat for the federally threatened bog turtle
The federally threatened bog turtle is one of the WHIP priorities in New Jersey.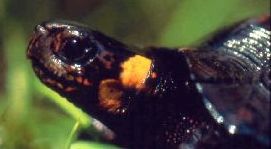 Since 1998, the Division of Fish and Wildlife's Endangered and Nongame Species Program (ENSP) has worked with NRCS on active bog turtle sites throughout the state.
Bog turtles inhabit limestone fens, sphagnum bogs, and wet, grassy pastures that are characterized by soft, muddy bottoms and perennial groundwater seepage. Many of the emergent wetlands inhabited by bog turtles in New Jersey have served as pastures. Some of these pastures are now abandoned and have become shaded by trees and shrubs.
Controlled grazing by livestock maintains the earlier successional stage and softens the ground, creating favorable conditions for these turtles. However, overgrazing can result in habitat degradation. WHIP funds have been used for fencing to facilitate controlled grazing. WHIP funds have also been used for the removal of excess woody vegetation, biological control of purple loosestrife and more.
Grassland Restoration
WHIP Designated Habitat: Early successional wildlife habitat, such as grassland restoration
Today, only about 5% of New Jersey's landscape remains in early-successional stages and many of our grassland or early-successional species of wildlife are on the decline. This situation is common across the United States. Many of these species, particularly birds, are listed as federally endangered or threatened, or on national watch lists.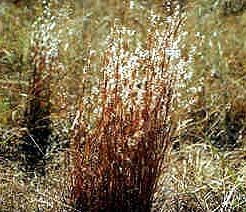 WHIP is targeting these habitats throughout New Jersey.
The Division of Fish and Wildlife has established native warm season grasses to provide unique habitat for rare bird species, declining butterflies and game birds such as quail and pheasants on several state Wildlife Management Areas (WMAs). These native plants provide better habitat for wildlife than traditional grasses used on farms. They provide excellent winter cover, spring nesting cover and year-round escape cover from predators. Once established, they require only minimal inputs (such as lime and fertilizer), and thrive under a prescribed burning regime.
WHIP funds have been applied to projects in Warren and Morris Counties. At the Beaver Brook WMA in Warren County, about 20 acres of native grasses have been established since the spring of 2000. At the Pequest Trout Hatchery and Natural Resource Education Center, about 3 acres of native grasses were established last spring. At Black River WMA in Morris County 11 acres of little bluestem were seeded specifically for the Arogos skipper, a rare butterfly found on this tract.
Riparian Project
WHIP Designated Habitat: Riparian wildlife habitat
The Division of Fish and Wildlife teamed up with NRCS, North Jersey RC&D, and the Hackettstown Department of Public Works to enhance the riparian area along the Musconetcong River at Union Cemetery.
With the hard work of Hackettstown High School students, trees and shrubs were planted to provide shade to the river and protect the banks from erosion. The students also filled two log frame deflectors by hand with river stone. The deflectors redirect streamflow to reduce bank erosion, and create deep holes that provide trout habitat.
Deflectors, as well as various other methods of bioengineering, were used at the Musconetcong River Wildlife Management Area in another partnership between NJ Division of Fish and Wildlife, NRCS, North Jersey RC&D, and Trout Unlimited. The Musconetcong River WMA is located along the Musconetcong River in Lebanon Township.
These two collaborative riparian restoration projects in Warren and Hunterdon Counties received WHIP funding. These projects not only provided immediate benefit to the Musconetcong, but also provided a means to educate young New Jerseyans on the value and need of our fish and wildlife. Future decision-makers involved in the project, namely high school students, got a close-up look at what collaborative effort, responsible planning and hard work can produce. As they continue to live in their community, this project will serve as a tangible reminder that their personal commitment can have a positive impact on the world they live in.
School Site/Environmental Education Center Habitat Development
WHIP Designated Habitat: School-site habitat development project for environmental education
The NJ Division of Fish and Wildlife and NRCS have teamed up to bring wildlife habitat to students in New Jersey by combining the Project WILD/WILD School Sites and the Wildlife Habitat Incentives Program (WHIP). WHIP provides technical and financial assistance to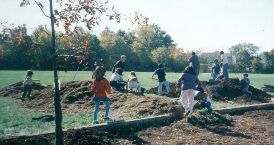 create, enhance,or maintain habitat to be used as outdoor classrooms on school grounds and at environmental education centers. Funds can be used to plant native trees, shrubs, and grasses. Wetlands and native meadows can also be established through WHIP.
As a condition of participation in WHIP, at least one teacher from each school or education center must complete Project WILD/WILD School Site training. At the workshop, teachers learn about wildlife behavior, what plants provide the best wildlife habitat, how to inventory a site and prepare wildlife habitat development plans, and how to involve students in the development and implementation of the plan. The workshops equip teachers with all of the resources they need to design an outdoor classroom and to incorporate it into lesson plans. WHIP projects overseen by trained teachers are then eligible to receive up to $2500 in reimbursement of project expenses.
Together, WHIP and Project WILD/WILD School sites are helping to ensure that New Jersey students will see the value of wildlife habitat first-hand and be encouraged to develop skills and abilities needed to manage our natural resources. Since 1998, approximately thirty schools have participated in WHIP, and 16 are certified as Wild School Sites.
How to Get Involved
WHIP applications are ranked according to their environmental benefits and cost-effectiveness. The highest-ranking projects are provided funding to implement a 5 to 10-year wildlife habitat development plan. Local NRCS conservationists provide planning assistance with help from an NRCS biologists as well as biologists from partner organizations, such as the NJ Division of Fish & Wildlife and the US Fish & Wildlife Service. The wildlife habitat development plan will describe the landowner's wildlife habitat goals, list the habitat improvement practices desired, and include a schedule of implementation.
To sign up for the Wildlife Habitat Incentives Program or for more information on WHIP priority categories and benefits, landowners can contact the USDA Service Center that serves their county. USDA Service Centers are listed in most telephone book under the US Department of Agriculture, and can also be found on the NRCS-NJ Website at www.nj.nrcs.usda.gov.
For more information on WHIP contact:
Tim Dunne, Resource Conservationist at 908-735-0737 x104
Garry Lee, Assistant State Conservationist, Programs at 732-537-6043

---