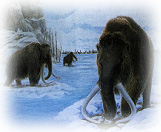 Prehistory (10,000 BC - AD 1609)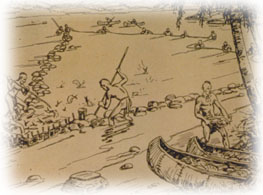 Prehistory of the Liberty State Park Area
For approximately 10,000 years New York Harbor has played a part in human life in North America. The abundant natural resources of this area have made it appealing from earliest times.
The New York Harbor was formed as a result of the last ice age, which ended around 10,000 years ago. A series of glaciers and ice sheets covered much of North America; the last covered the entire New York Harbor with a sheet of ice approximately 1 mile thick. As the ice melted, a fresh water lake (Glacial Lake Hackensack) formed. In time, sea levels rose and salt water flowed into the lake changing the environment into an estuary.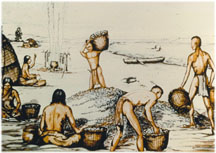 During this series of events, humans first appeared in the region (10,000 to 12,000 years ago). These first inhabitants, known as the Paleo-Indians, have been characterized traditionally as nomadic bands of big game hunters, following the herds of Mammoths and other ice age animals across the continent.
The climate continued to change, temperatures warmed and the glaciers receded, tundra-like environment gave way to more modern conditions. The prehistoric "mega-fauna" was replaced by modern species such as white-tailed deer, raccoon, and bear.
Around 8,000 years ago a more sedentary culture better adapted to this new environment developed. Known as the Archaic Period, the people of this time made advances that allowed them to exploit the new conditions. Not simply hunting, they developed the technology needed to harvest the resources found both in New York Harbor such as fish and shellfish, as well as along its shores such as acorns and other new plant species.

Approximately 2,000 years ago, things changed again, this time, however, the changes were in human technology rather then the environment. During the Eastern Woodland Period, major technological advances such as pottery, bow and arrows, and agriculture were developed. These advances allow for even greater utilization of the land and resources leading to the growth of larger settlements such as villages. This tradition persisted up to the time of European Contact in the late 16th and early 17th centuries.