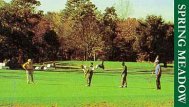 Spring Meadow
Golf Course

Location:
Wall Township

Mailing Address:
4181 Atlantic Ave.
Farmingdale, NJ 07727
(732) 449-0806

GPS Coordinates
DMS 40° 09' 23.15" N 74° 07' 04.72" W

Directions:
The golf course is on Route 524 adjacent to Allaire State Park and can be reached from exit 98 off the Garden State Parkway or exit 31B off Interstate 195.
Spring Meadow golf course has tree-lined fairways with well-trapped greens. The Manasquan River runs through the property, creating an attractive and challenging course. The course is 6,224 yards long with a course rating of Back, 69.7, slope 122. The Middle is 67.5, slope 114 and Forward is 64.4, slope 107. Five par 3 holes, five par 5s and eight par 4s.
Please contact the Pro Shop at 732-449-0806 for hours of operation, fees and additional information.