WASHINGTON CROSSING STATE PARK
NATURE CENTER GROUP PROGRAM LISTING

These programs are offered by special arrangement to organizations such as schools, scouts, clubs, community groups, etc. Please see our group reservation policy. To make a reservation or for further information call the Nature Center at (609) 737-0609.

Trail Hike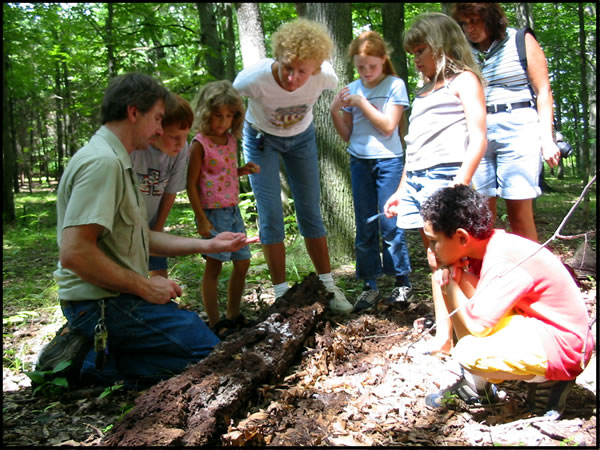 Grades: 1-12
Time:80 min.
This naturalist-guided nature trail walk is probably our most popular activity. Here, students will explore the park for various natural artifacts, and will become acquainted with some basic ecological concepts and conservation issues.
Park Hike
Grades: 4-Adult
Time: 2 1/2 hrs.
The Park Hike is an extended version of our Trail Hike. In this activity a greater emphasis will be placed on the actual walk and the interpretation will be on the lighter side. The distance covered will be between 2 and 5 miles. This activity is recommended for those groups who are primarily interested in fresh air, exercise and recreation.
Pond Study
Grades: 2-12
Time: 80 min.
Students will sample the park pond for its various native plants and animals with nets and other equipment. Basic questions regarding the pond's origin, life cycle, water supply, etc. will be answered.
Stream Stomp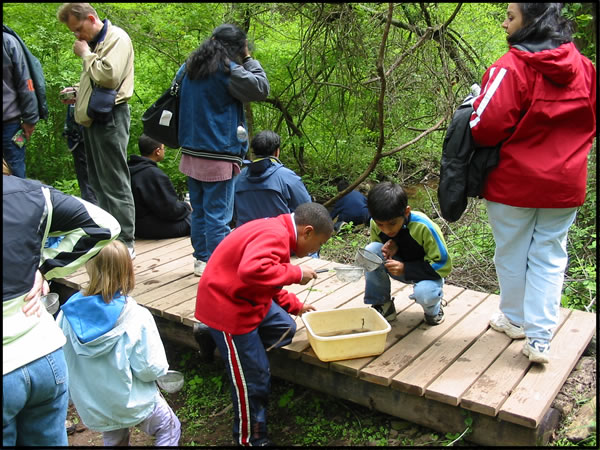 Grades: 2-12
Time: 80 min.
Come out for a wet hike as we follow some streams to find out where they go. We'll flip some rocks in search of crayfish, salamanders, caddisflies, frogs and other stream residents. Wear old sneakers and old clothes. This activity is offered in the late spring and early summer.
Forest and Field Ecology
Grades: 3-8
Time: 2 1/2 hrs.
In this activity, the group will be divided into teams. Each team will be assigned to a special ecological community where they will be asked to perform tasks such as locating and measuring objects, drawing maps describing things, answering questions, etc. With a follow up discussion, students will form a concept of what a community is in ecological study.
Predator-Prey Simulation Tag
Grades: 4-12
Time: 2 1/2 hrs.
In this ecology game, students will be assigned to the role of various native wild animals, and independently released into the forested playing area to locate survival resources. Players will be eliminated from the game as they are either tagged by predatory "animals," or as they fail to acquire the resources needed to survive. A discussion of habitat requirements will follow the game. Please note: This is an exceptionally active program with quite a bit of running and other activities which pose a degree of physical risk.
Wildlife of New Jersey
Grades:1-8
Time: 80 min.
This activity starts with a brief slide presentation exhibiting various species of NJ wildlife. Students then proceed outside to search the woods for evidences of wild animals.
Soil Conservation
Grades: 3-8
Time: 80 min.
The nature of this important resource will be featured as students dissect soil samples for their contents, experiment with erosion simulators and observe soil formation and mineral cycling in action.
Delaware River Romp
Grades: 3-8
Time: 80 min.
The ecological and historical significance of this section of the Delaware will be examined as kids search for natural specimens, listen to stories and narratives, compare various maps, dance through the water cycle and hike along the riverbank. When the water level and weather are appropriate students will actually wade in the shallows looking for small river organisms. Older students might collect scientific data in order to assess water quality and make calculations on current and water volume.
Rocks in the Making
Grades: 3-8
Time: 80 min.
Through a series of demonstrations, games, and observations, students will become familiar with the rock cycle, and how rocks and minerals are formed and transformed. Students will observe satellite images of the earth in order to learn how some common geologic features come into being.
Our Feathered Friends
Grades: 1-8
Time: 80 min.
Kids will explore the world of birds through observation, games, demonstration and experimentation. This activity endeavors to acquaint students mainly with bird anatomy and behavior, with minimal emphasis on field identification.
Timber Stand Evaluation
Grades: 6-12
Time: 2 1/2 hrs.
Students will utilize professional and homemade forestry equipment in order to manage a forested area in the Park for a hypothetical saw timber harvest. Forest management techniques and timber estimates will be covered. Students should bring calculators.
Tree Identification
Grades: 4-9
Time: 80 min.
This trail walk will focus on the characteristics of trees and how these features can be utilized to differentiate between species. Participants will learn how to identify several species of forest trees that are common in the state park.
Lore of the Lenape
Grades: 3-8
Time: 80 min.
Students will become acquainted with the colorful culture of the native peoples who inhabited New Jersey prior to European colonization. Indian clothing, foods, housing, religion, and folklore will be explored. Many objects and artifacts will be exhibited.
Nature Crafts
Grades: PK-6
Time: 80 min.
Maximum Limit: 25 students. In this activity, participants will collect natural objects in the park for the purpose of creating craft projects with them. The craft possibilities range from leaf prints and rubbings, to nature collages, sun prints, nature jewelry items and ornaments depending on the weather and seasonal availability of the artifacts to be collected.
Maple Sugaring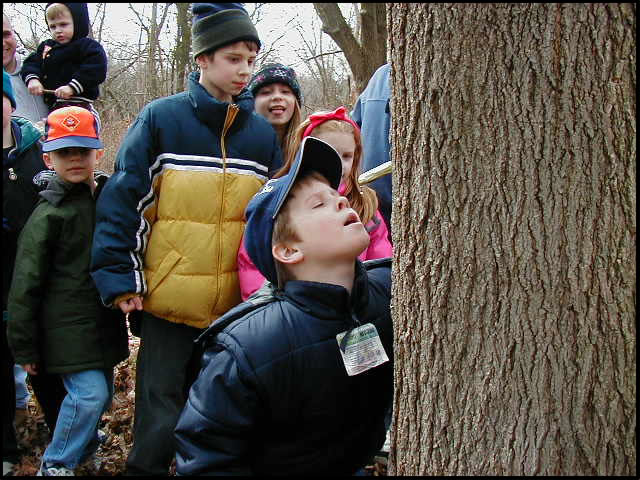 Grades: K-12
Time: 80 min.
Available from the middle of February through March, the Maple Sugaring program introduces students to maple sugar processing, tree tapping, tree identification and biology and folklore. Maple sugaring is a hands-on activity which serves as an excellent vehicle for teaching many important natural resource concepts.
Wild Edible Plants
Grades: 4-12
Time: 80 min.
Participants will learn to identify and prepare some of the many native plants which earlier inhabitants of the area used to supplement their diets. Included in this activity will be a discussion of some of the most common toxic plants to be avoided.
Shelter Building/Wilderness Survival
Grades: 3-12
Time: 80 min.
Have you ever wondered how you would go about surviving should you become lost in the wilderness for an extended period? This Indian survival technique is both educational and fun for students as they construct a temporary shelter completely from native materials found in the forest.
Natural Dyes
Grades: K-12
Time: 80 min.
In this activity, students will be shown how dyes can be extracted from native plants for use in coloring fabrics. Kids will then collect plant materials and dye their own wool samples.
Group Adventure Experiences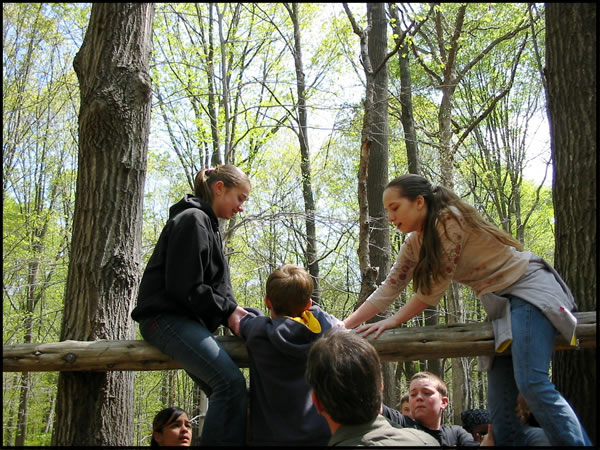 Grades:4-12
Time: 2 1/2 hrs.
An array of mental and physical challenges awaits participants, which must be overcome by the group. This is a group dynamics activity designed to promote positive socialization and group interaction while breaking down traditional inhibitions about the outdoor environment.
New Games
Grades: 3-12
Time: 80 min.
New Games are amazingly fresh and fun noncompetitive variations of older traditional games, whose rules have been altered to make them more exciting and interesting. In New Games, the concept of playing the game for pure enjoyment is emphasized over the importance of winning. Please note: Some New Games are quite active and involve running and jumping and other possible sources of physical injury.
Environmental Treasure Hunt
Grades: 2-6
Time: 80 min.
Students will roam through sections of the park either searching for natural objects, or creating that which they cannot find. This activity is conducted in the style of the traditional scavenger hunt.
Rope Bridge
Grades: 4-Adult
Time: 2 1/2 hrs.
Participants will learn some basic knots and rope riggings that have been used by wilderness survivalists for generations. They will use their newfound skills constructing a working suspended rope bridge traversing a park stream ravine.
Compass Basics
Grades: 4-12
Time: 2 ½ hrs.
Students will be instructed in the use of the protractor style compass, and why it works the way it does. After learning how to use the instrument, participants will proceed outside to work their way through the woods on our compass course.
Map and Compass
Grades: 7-12
Time 2 ½ hrs. Maximum Limit: 12 students After mastering the use of the compass with the Compass Basics activity listed above, students will learn more advanced compass techniques. This activity will include orientating a map, adjusting for declination, estimating horizontal distances by pace, plotting positions on a map and working from map to terrain with a protractor compass.
Geocaching
Grades: 7-12
Time: 2 ½ hrs.
Maximum Limit: 14 students Geocaching is a high-tech update on the old-fashioned scavenger hunt game utilizing GPS (global positioning system) technology to locate objects hidden on the landscape. Students will learn how to obtain information from the Geocaching.com web site and how to use that information in concert with a hand-held GPS unit to locate several caches in the state park. Participants should bring a pocket full of trinkets to swap when they find a cache.
Build a Campfire
Grades: 1-6
Time: 80 min.
Kids will learn the basics of safely building and extinguishing a campfire. Included in this activity will be selecting the proper fuel, the triangle of fire, safety and alternate styles of campfires.
Ropelore
Grades: 4-12
80 min.
Participants will become familiar with the uses and limitations of rope as a tool in the outdoors. Games, relays, and demonstrations are the techniques used to instruct kids in some basic knots useful in everyday applications.
Webelos Activity Badges
Time: 80 min.
Webelos scout leaders may choose between the Earth Rocks, Into the Wild or Into the Woods adventures and we will cover as much of the required material in the book, as can be accommodated in the allotted time slot.
Brownie Girl Scout Try-Its
Time: 80 min.
Brownie leaders may choose between Animals, Earth and Sky, Eco-Explorer, Outdoor Adventure, Senses and Water Everywhere. We recommend that leaders prep the girls prior to their visit to the park by covering certain required Try-It activities and we will work on other requirements during the visit. Give us a call to discuss the details.
Nature Center Tour/Short Hike
Grades: PK-1
Time: 45-60 min.
Younger children will be guided through some of the most interesting Nature Center exhibits, and then be taken out on the trails for a short nature walk. This activity is designed to acquaint very young children with exhibits that would normally be self-guiding to older kids.
Sensory Surprise
Grades: PK-2
Time: 45-60 min.
Washington Crossing State Park contains many interesting sights, sounds, scents and textures. This program is designed to familiarize younger students with their five senses in a nature exploration type of context. Kids will play games that require them to exercise their senses in order to locate and/or identify various natural objects.
Growth of a Tree
Grades: PK-2
Time: 45-60 min.
This activity commences with a chalk talk on the value of trees. Students will then become acquainted with tree anatomy as they dress one of their classmates in a tree costume, part by part. While hiking on the trails, the kids will be challenged to locate various hidden natural objects that come from trees.
Insects and Their Kin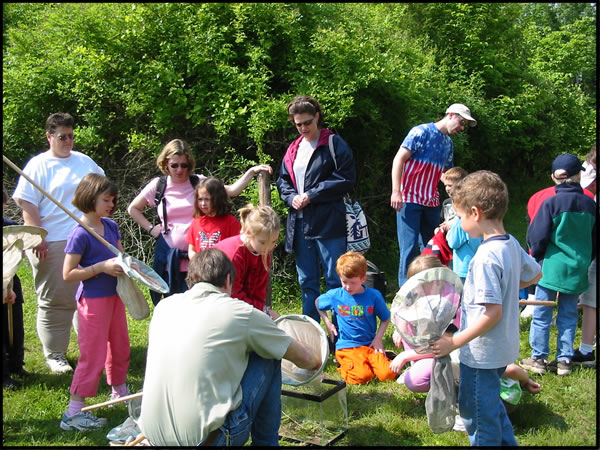 Grades: K-4
Time: 80 min.
The diverse world of insects and their relatives will be explored in this activity through a variety of media including collection, demonstration, games and direct observations. Kids will become acquainted with basic insect anatomy, identification and the many roles insects and spiders play in the natural environment.
Animal Tracks
Grades: PK-2
Time: 45-60 min.
Maximum Limit: 15 students. Kids will become familiar with the footprints of several kinds of wild animals through direct observation. An animal story will be read, and the children will recreate the story's events with ink prints of animal tracks on a large map. They may then create their own animal track stories, or search the trails for real animal tracks during a short hike.
Nature Crafts
Grades: PK-6
Time: 45-60 min.
Max. Limit: 15 students. Please see Nature Crafts listed under our SURVIVAL heading.
Wild Animals of New Jersey
Grades: PK-K
Time: 60 min.
The children will be shown slides of some of the state's native wildlife. They will then embark on a short hike in search of nests, burrows, tracks, bones, feathers and other signs of animals.
Nature's Alphabet
Grades: PK-K
Time: 60 min.
Maximum Limit: 15 students. After reviewing the alphabet, the children will proceed outdoors for a hike in the park. On the trail they will be introduced to natural artifacts whose first letters correspond to various letters in the alphabet. With the help of adult leaders, the students will write the name of their objects in the correct space on an alphabetic worksheet.
1. Registration will be on a first come, first served basis.
2. The minimum age for program participants will be four years old.
3. Group outdoor education program reservations will be taken for schools, scout groups, youth groups, homeschool groups, churches, camps, clubs, and organizations only.
4. Rain dates will be considered only as the occasion arises and as the calendar permits.
5. The Nature Center reserves the right to cancel or postpone programs in the event of bad weather, mechanical malfunctions, staff illness, or other logistical problems.
6. No more than four reservations will be permitted per school, for each season.
7. Three daily time slots will be available for weekday programs. A maximum of twenty five and minimum of twelve participants may register per time slot for most programs. Groups of larger than twenty five will be required to book additional time slots and provide their own programming for participants unoccupied by Nature Center activities.
8. Specific programs to be offered will be at the final discretion of the Nature Center staff.
9. The Nature Center will not be obliged to deliver programs to groups arriving more than twenty minutes late for their appointment.
10. At least two weeks advanced registration will be required.
11. The Nature Center reserves the right to exclude from programs, any participants who are observed misbehaving or violating park regulations.
12. A fee might be charged for programs.