TRENTON – Members of the Christie Administration and local advocates participated today in a worldwide effort to raise awareness for Autism Spectrum Disorder (ASD) by blowing bubbles. The event was coordinated by the New Jersey Department of Human Services (DHS).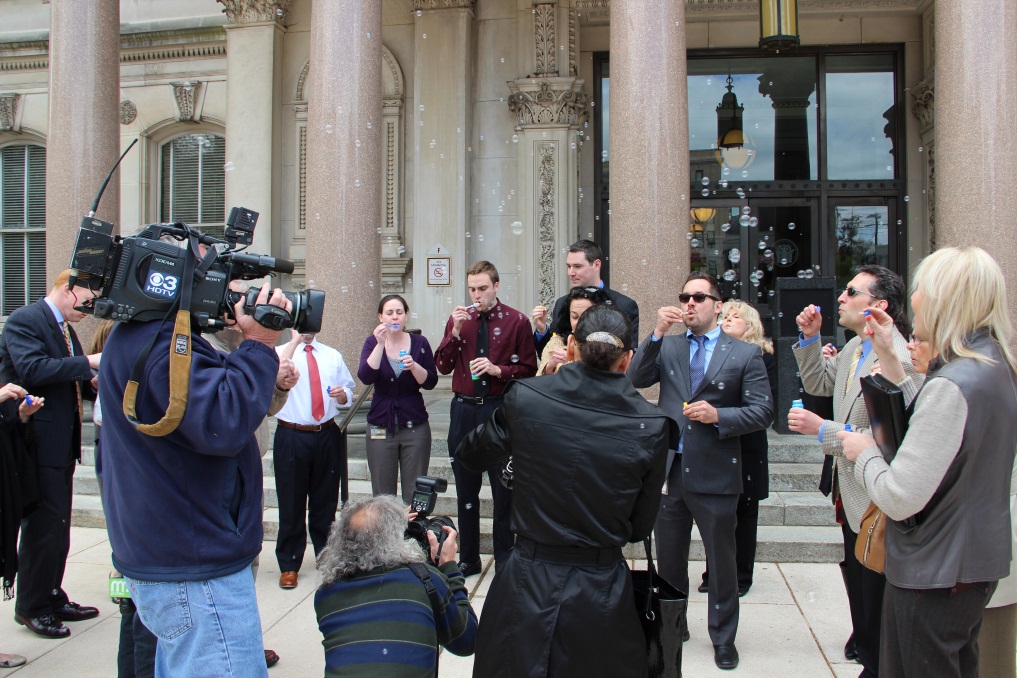 Spearheaded by Faces4Autism, a non-profit advocacy and support group based in southern New Jersey, the Bubbles4Autism awareness campaign encourages schools, businesses and people nationally and internationally, to assemble and blow bubbles at the exact same time – 1:15 p.m. to 1:16 p.m. EST. Last year, more than 57,202 people participated from 303 locations.

"New Jersey has one of the best systems in the nation for identifying, diagnosing and caring for individuals with autism," said DHS Commissioner Jennifer Velez, whose department provides programs and services to adults with autism and other developmental disabilities. "There is a vast infrastructure in place that supports individuals with autism from birth through adulthood."
 "In New Jersey, one in forty-nine children is on the autism spectrum," said Mary E. O'Dowd, Commissioner of the Department of Health, which provides early intervention services to children with delays, developmental disabilities and autism. "Raising awareness is essential to getting children diagnosed early and engaged in therapies that can improve some of their core developmental skills."
This year, services for children with developmental disabilities were transferred from DHS' Division of Developmental Disabilities to the Department of Children and Families' (DCF) Children's System of Care, creating access to a comprehensive array of services to help meet their needs.
"The Division of Children's System of Care brings together programs previously scattered throughout state government and provides a holistic approach for children with multiple needs," said Allison Blake, Commissioner of DCF. "Families want and need a single point of entry for these services."
In August 2010, DHS operationalized an Office on Autism as recommended by its Adults with Autism Task Force. The Office serves as a centralized place to address issues associated with ASD through its Navigating through the Maze resource guide, which helps identify various state programs and services for people with Autism.