Since many homes now must be elevated to prevent future storm damage, vertical platform lifts, or stair glides may be essential for individuals with disabilities to be able to access their homes safely.

 
Renamed the Sandy Relief Home Access Program, it is administered by the New Jersey Department of Human Services' (DHS) Division of Disability Services (DDS). The program provides external home accessibility to eligible applicants, whose primary homes were impacted by Superstorm Sandy. The accessibility options include modular ramps with stair glides, or vertical platform lifts in situations for which ramps are not deemed feasible.

"Many homeowners who have disabilities have had their ramps destroyed or damaged during Superstorm Sandy," said DHS Commissioner Jennifer Velez. "Many families also may have found that certain losses, such as storm damage to external ramps may not be covered by the homeowner's insurance."

Formerly known as the Sandy Relief Modular Ramp Program, the projects are funded by a $2.89 million federal Social Services Block Grant (SSBG). To date, 20 modular ramps have been completed for eligible families, with more than $133,800 expended from the fund. DDS began accepting applications for the program in October 2013 and funds are still available to provide modular ramps, stair glides or vertical platform lifts for eligible New Jersey storm survivors.

"The ability to get into or out of a residence safely is essential for people with disabilities," said Joseph Amoroso, Director of DDS.  "Many people may have had a ramp that is now no longer useful, due to new building codes that require the home to be elevated; while others may have had to relocate temporarily and the temporary home needs to be made physically accessible."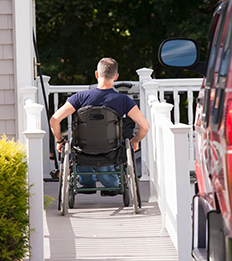 To be eligible: applicants must be residents of New Jersey; provide proof of loss, or need, as a result of damage to the primary residence from Superstorm Sandy; and, present medical certification confirming the presence of a disability that requires a ramp. Applicants also must show proof of home ownership or have written permission from the property owner.  All other sources of payment, such as insurance, must be unavailable, or exhausted.
Once an applicant is eligible, DDS dispatches an evaluator to the home. Design options for lifts, glides and modular ramps are customized for each home and the needs of each applicant. Once approved, DDS then sends the schematic to a list of qualified vendors, selected through RFP, to bid on the projects construction.  All installations comply with the Americans with Disabilities Act.
Individuals interested in applying for the Sandy Relief Home Access Program can call DDS at 1-888-285-3036.