"Over the last five and a half years, the Governor and I have had the opportunity to meet with many families affected by autism and their loved ones who live with the disorder.  What we've discovered is a common vision shared by all parents – for all our children to have the best possible outcomes that help them lead productive, fuller lives," said Mrs. Christie. "Autism Awareness Month is the perfect time to promote greater understanding and awareness of this developmental disability and to shine a light on the innovative work being done by so many organizations throughout the state that are making a real difference in the lives of people with ASD."

Autism, a biologically-based disorder that affects the development and functioning of a person's verbal and non-verbal communication skills, social interactions and patterns of behavior, touches about 1 in 45 children in New Jersey. According to the Centers for Disease Control and Prevention's (CDC) most recent data, nationally an average of 1 in 68 individuals have an ASD, 30 percent higher than the rate in 2008 (1 in 88). It is not yet known if New Jersey's higher rates are due to more accurate diagnoses or an increase in cases.
 
New Jersey is considered to have one of the best systems in the nation for identifying, diagnosing and documenting children with autism spectrum disorders, Governor Christie's fiscal year 2016 budget provides $154 million for the Department of Health's Early Intervention System, which acts as early identification and referral, service coordination, evaluation/assessment, and developmental early intervention services for children from birth to three with developmental delays and disabilities.  

Additionally, New Jersey is one of only eight states with an Autism Registry that requires reporting by neurologists, pediatricians, nurses and other autism providers so children can be referred for resources and services. Approximately, 15,000 are registered with the Department of Health's Autism Registry and that has heightened awareness among parents and providers of indicators for Autism Spectrum Disorders.
 
New Jersey is also at the forefront of supporting autism research through the Governor's Council for Medical Research and Treatment of Autism has provided nearly $31 million in research grants since 2008 as well as with a Center for Excellence located at Montclair State University.

In addition, the Office of Autism was established in August 2010 within the Department of Human Services' Division of Developmental Disabilities, creating a centralized location to coordinate information. The Office recently announced the 2nd edition of the guide, "Autism, Navigating Through the Maze," which is available on the DHS website. The guide provides information from multiple state departments in an effort to assist families in understanding the options and process for accessing essential services.
 
A copy of the Governor's Proclamation declaring April as Autism Awareness Month is attached.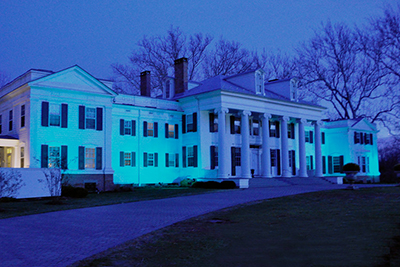 PHOTO CAPTION:  Drumthwacket commemorates  World Autism Day by Lighting It Up Blue.