New Jersey's Direct Support Professionals Honored at Recognition Ceremony
On September 15, 2015, The New Jersey Partnership for Direct Support Professional Workforce Development held a Recognition Ceremony to honor Direct Support Professionals across the state. This event, marked by a series of speeches and educational sessions presented by state leaders, advocates, experts in the field of developmental disabilities, and partners dedicated to the professionalism of the direct service workforce left a lasting impression on those in attendance.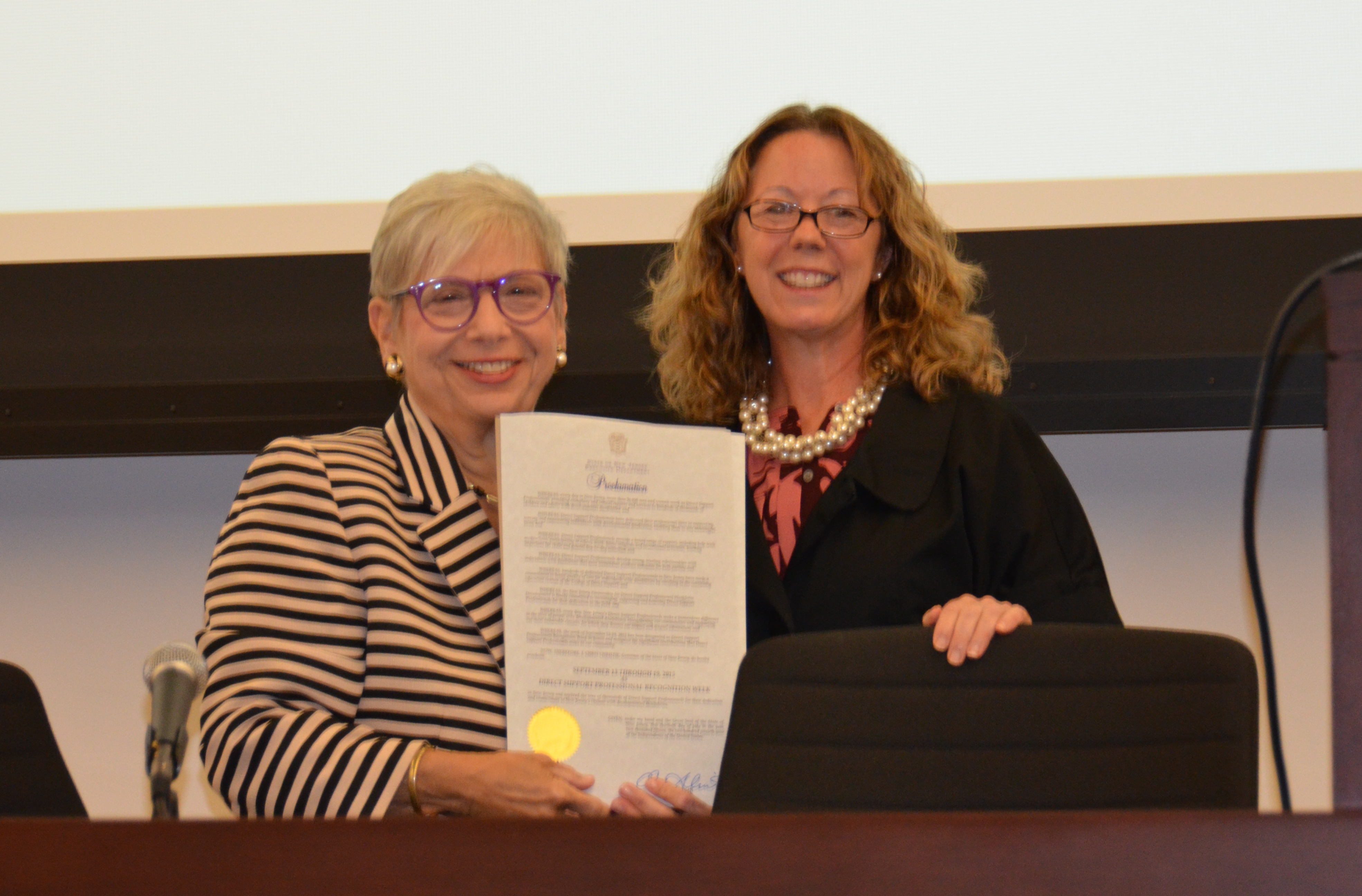 Workforce development and recognition are nationally accepted methods aimed at enhancing the quality of supports provided to people with disabilities. This event highlighted the progress New Jersey has made in this area over the past decade, shared stories of dedicated Direct Support Professionals (DSPs) and advocates across NJ, and commended DSPs statewide for their dedication to those they support.
Deborah M. Spitalnik, PhD, Executive Director of The Boggs Center and Chair of The Partnership's Leadership Council opened the event with welcoming remarks.  In her presentation, Dr. Spitalnik warmly commended DSPs for their steadfast commitment and dedication.  She also recognized the history New Jersey has with being on the forefront of workforce development, highlighted the progress that made across the state, and identified the work that needs to continue to ensure a quality workforce now and into the future.
NJ Department of Human Services Acting Commissioner Elizabeth Connolly presented a proclamation from Governor Chris Christie, designating September 13-19, 2015 as Direct Support Professional Recognition Week in New Jersey. 
New Jersey has long emphasized the importance that training and workforce development for DSPs plays in the lives of people with disabilities. This has most recently been demonstrated by entering the third year of statewide implementation of the College of Direct Support (CDS), an online educational program that provides more than 30 courses focused on the field of direct support. The availability of this system helps the NJ Division of Developmental Disabilities (DDD) meet basic assurances related to training as required by the federal Home and Community Based Services (HCBS) waivers, referred to as the Community Care Waiver (CCW) and the DDD Supports Program under the Medicaid Comprehensive Waiver in NJ. It also provides DSPs with access to a statewide, voluntary Career Path program that utilizes CDS coursework in combination with on-the-job mentoring and competency-based portfolio development aimed at enhancing professional skills and providing certificate and credentialing opportunities.
The NJ Partnership for DSP Workforce Development is a collaboration between the NJ Department of Human Services, Division of Developmental Disabilities; Alliance for the Betterment of Citizens with Disabilities; The Arc of NJ; the NJ Community College Consortium for Workforce and Economic Development; The Boggs Center on Developmental Disabilities, Rutgers Robert Wood Johnson Medical School; NJ Association of Community Providers; NJ Council on Developmental Disabilities; Direct Support Professionals; and People with Disabilities and Families.