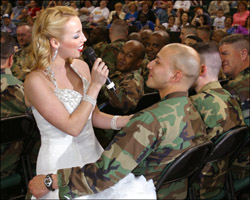 Salute the Troops
By the Guardlife Staff,
photo by Tech. Sgt. Mark Olsen, NJDMAVA/PA

On May 1, at 1 p.m., the New Jersey National Guard sponsored a "Salute the Troops" ceremony at the Sovereign Bank Arena in Trenton to honor the 650 citizen-soldiers from the Garden State deploying to Guantanamo Bay, Cuba in support of Operation Enduring Freedom.
Troops include members of the 50th Brigade Headquarters (Lawrenceville), 2nd Battalion, 113th Infantry (Riverdale, Newark, Jersey City, Woodbridge); 2nd Battalion, 102nd Armor (Port Murray, Newton, Dover, Somerset, West Orange, Hackettstown) and 50th Finance Detachments (Flemington).
The event featured an Official Deployment Ceremony, a Parade of Troops and in addition to the troops' family members and friends, include participation by Governor James E. McGreevey, Commander-in-Chief of the New Jersey National Guard; Brig. Gen. Glenn K. Rieth, The Adjutant General of New Jersey; Brig. Gen. Maria Falca-Dodson, Deputy Adjutant General; elected officials, community representatives, members of the New Jersey Army and Air National Guard, veterans organizations and the USO.