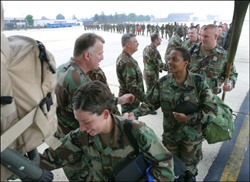 1-114th Deploys to Arrabian Penninsula
By the Guardlife Staff, photo by Tech. Sgt. Mark Olsen, NJDMAVA/PA

More than 300 members of the 1st Battalion, 114th Infantry, New Jersey Army National Guard deployed to the Arabian Peninsula in support of Operation Enduring Freedom, the ongoing war against global terrorism.
Unlike past missions, this is the first time a New Jersey Army National Guard unit has been chosen for this type of deployment.
On May 18, a "Salute the Troops" ceremony was held at the Trenton War Memorial in Trenton to honor the battalion.
The deployment is expected to last up to 18 months and is part of the second round of rotations of Guard and Reserve units called up in support of Operations' Noble Eagle/Enduring Freedom.