The New Jersey State Family Readiness Council held its first Gala Dinner on May 11th.
The event honored former US Congressman Bob Franks for his support of the New Jersey National Guard. Franks is a member of the council and is responsible for its largest fundraising effort. The event proceeds of nearly $100,000 will be made available through grants, to NJ National Guard members and their families. The council has awarded more than $90,000 in family grants ($2500.00 each) and business grants ($5000.00 each) to date.
For more information on the grant program, visit the Council's website at
www.njguardfamilies.com
.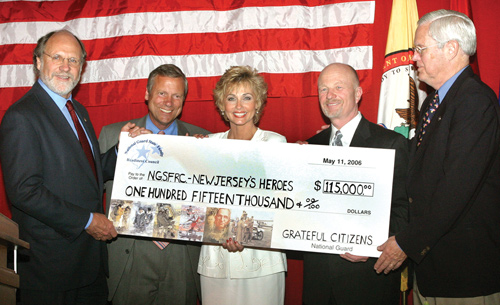 Governor Jon S. Corzine, Brian Thompson, Linda Rieth, Bob Franks and Scott Sheppard pose with a check for $115,000, which will be used for grants to New Jersey National Guard families. Photo by Sgt. 1st Class Robert Stephenson, NJDMAVA/PA.