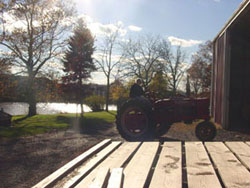 The Farm Link Program serves as a resource and referral center for new farmers, farmers seeking access to land and farming opportunities, landowners seeking farmers, and farmers working on estate and farm transfer plans.

The program's linking service works to connect farm owners with farmers seeking access to land and farming opportunities. People looking for land typically include new farmers or farmers looking to expand or relocate their operations. When matches occur, they often involve leases, partnerships, apprenticeships, standard sales, and other arrangements.

The Farm Link Program provides support for all farmers, both new and established. The program's linking service and resource pages are particularly useful for the following groups:
New farmers looking for land and opportunities to gain experience and get started
Established farmers looking for land to expand
Farmers and landowners looking to lease, sell or make some land available for farming
Retiring farmers who would like to ensure their land stays in agricultural production but have no family members who want to continue to farm
Farmers looking to fill farm manager or apprenticeship positions, or to mentor a new farmer
Nonprofit organizations, municipalities and counties looking for farmers for farmland they own or manage
Farmers working on intergenerational or other farm transfer plans
How to enroll in the program's linking service
First review how the linking process works. Then complete and return either the Farm Owner or Farm Seeker questionnaire form:



Please note: The Farm Link Program's linking service is not a real estate service, but rather a unique service for farm owners/landowners and other farmers. Accordingly, people looking for land but not planning to farm may not participate in the program.
For more information
Browse the Opportunities and Resources pages, and contact the Farm Link Program at (609) 984-2504 or david.kimmel@ag.state.nj.us.