e-Child Care is technology that will use either a telephone or a swipe card system to provide real time tracking and verification of child care attendance. It will automate and eliminate manual processes including paper invoices, and it will provide more efficient services to providers, including quicker payments. In addition, the system will provide a portal where providers can find out about a child's authorization, see who is registered at their center, obtain daily check in/out report and other reports on enrollment and attendance.

This technology will improve accountability in the child care subsidy program and strengthen and update business practices in New Jersey's child care industry.


e-Child Care Launch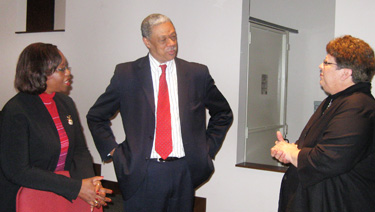 At the e-Child Care launch, NJ Division of Family Development Director Jeanette Page-Hawkins (left) talks with child care provider Walter K. Frye and Lisa Henley, who headed up Oklahoma's e-Child Care project and now works for Affiliated Computer Services (ACS), the vendor who is developing New Jersey's e-Child Care system. 
 Important information: the e-Child Care statewide implementation date has been changed from November 6 to January 1, 2012.

Click here for more information:
> English        > Spanish 
e-Child Care Information
e-Child Care Training