Youth Camp 2014
Youth Camp 2014 will mark our 20th year at Sea Girt!!! 2014 applications will be available February 3, 2014. Please check back then.
Apply online at https://njngyouthcamp.org/
Applications in PDF format click here.
The New Jersey National Guard Youth Camp is ran by the Family Programs Office and your Camp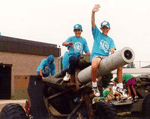 Director is the State Family Programs Director. We provide a safe and enjoyable environment for the youth of New Jersey Guard members.

You can expect a fun filled week of Sports, Arts & Crafts, Swimming, and Archery along with special activities highlighting Health & Fitness, Substance Abuse and Child Safety.
The camp will be open to children based on the following criteria:
Tier 1: Children/Legal dependents of a NJ National Guard member
Tier 2: Children/Legal dependents of Department of Military & Veterans Affairs employees and other uniform services
Tier 3: Other
Camper Information:

9-13 year olds- We are accepting about 125 kids in 5 companies.
14 and 15 year olds - A parent must be volunteering/working at youth camp the entire week in order for their 14 year old teen to participate. These kids will be used to assist the various activities will only be in ONE company of about 24 children. Unfortunately, due to a single company of 14 and 15 year olds, it is important you enroll early as is it first come first serve and we have a requirement for 24 equal number of girls and boys. If we get more than 12 of a single sex, the extra names may not get accepted.
Cost for each Camper and Helper is $150.
Junior Counselor Information:
Junior counselors are 16-17 years old and help the Senior Counselors run each company.
We will have somewhere between 18-24 Junior Counselors. There is a requirement to have an approximate balance between male and female Junior Counselors so it is important you submit your applications early. Once we reach about 10 names of one sex, the extra names will be put into a waiting list for final determination.
There is no cost for Junior Counselors.
Volunteers/Senior Counselor:
If you are 18 or older we can use you at camp!!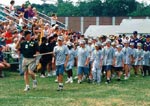 We are looking for lots of Volunteers to help in running the camp and leading the various activities planned for the kids.
We want your children to meet new people and build friendships, understand the Guard and its mission, and experience life at a military camp.
IF YOU ARE APPLYING TO BE A SR. COUNSELOR OR WORK IN SAFETY/SECURITY, You are REQUIRED to obtain a FINGERPRINTED BACKGROUND CHECK --- THIS MUST BE DONE BEFORE CAMP TO WORK IN THESE AREAS!!!
Please contact one of the following people for more information about Youth Camp:
Amanda Balas
609-324-7018
amanda.m.balas.ctr@mail.mil
Nicole Morgan-Lewis
609-324-7019
nicole.l.morgan-lewis.ctr@mail.mil