2012 New Jersey Outstanding Young Farmer
Paul "Duce" Tallamy
View the commemorative video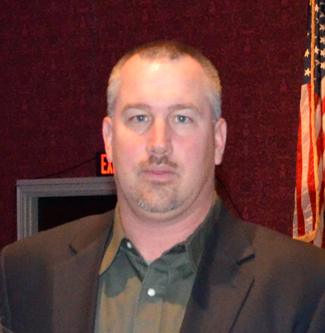 Paul 'Duce" Tallamy II is a first-generation farmer. After graduating from the State University of New York College of Agriculture and Technology with an associate's degree in applied science, Tallamy worked as a herdsman on a New York dairy farm with 1800 milking cows and 3000 young stock.

Three years later he met an individual in his hometown of Wantage who owned 250 acres, two old barns, a two-stall horse barn and two long-abandoned farm houses. He became partners with the landowner, renovated the homes and barns, reclaimed cropland and purchased some cattle. With the untimely death of his partner, Tallamy thought his dream of owning a farm was over. However, his partner's widow decided to preserve the farm and in 2006 she sold it to Tallamy and his wife, Joy who began Green Valley Farms, a produce and natural beef cattle operation.

Since then, Green Valley Farms has expanded to four roadside markets, all within 20 miles of the home farm and also offers the Farm's products in the neighboring state of Pennsylvania. At their retail locations, they sell USDA-certified "All Natural Beef" along with their farm-fresh produce, eggs, pies, home-made ice cream and flowers. Joy Tallamy runs class trips and farm education tours and they host yearly strawberry, ice cream, sweet corn and harvest festivals.

Tallamy sets high standards in all facets of his life and this is portrayed in his business, the quality of his crops, and, most importantly, in his family and how they live their lives to the fullest. The Tallamy family considers it a blessing to have the opportunity to serve their community and church.

Preserving and conserving natural resources is Tallamy's objective through his farm management practices. To attain his goal, he works closely with NRCS USDA through a variety of programs including manure management, comprehensive nutrient management, grazing systems and the energy audit program. Through the use of drip irrigation for his vegetable crops, he has reduced his water usage by 50 percent.

Contribution to agriculture and service to his community and church are high priorities for Duce. He has served as the president of the Holstein Association, Leader in the 4-H Club, Vice President on the Christian School Board, chairman of the Project Development Board, committeeman of the Long Range Planning Board, active in Compass 21 (a youth leadership group), and serves as a volunteer fireman. Tallamy is also an active member of the Beef Quality Assurance program and New Jersey Farm Bureau.

Duce and Joy are the proud parents of four girls and one boy.